"The seventy-two disciples returned rejoicing and said to Jesus, 'Lord, even the demons are subject to us because of your name.' Jesus said, 'I have observed Satan fall like lightning from the sky. Behold, I have given you the power to tread upon serpents and scorpions and upon the full force of the enemy and nothing will harm you. Nevertheless, do not rejoice because the spirits are subject to you, but rejoice because your names are written in heaven.'"
– Luke 10:17-20
We all have doubts, worries, and fears. Going through the daily motions of life, these specific waves of anxiety can take over with it being hard to see the light in all situations, that light being Christ. God is a constant, whether we feel His presence or not. I know I have gone through dark times where it is hard to find God, falling into despair and hopelessness. Today I offer a reminder of the power one name has to conquer all of these trials we face, and that is the name of Jesus.
On this day, we honor a saint that truly lived out a charism of faith, of radical trust in God even when the going got tough. St. Faustina Kowalska lived in Poland in the early 1900s and wrote a diary depicting her interactions with Jesus, one most famously resulting in the painting of the image of Divine Mercy. When we see this image today, there are four words that are written underneath this beautiful image of our Lord – "Jesus, I trust in You."
This phrase can become the most beautiful prayer if we offer it to God, even in our weakest moments, and when it is hardest to proclaim trust. I believe God truly sees the intention of our hearts when we proclaim this belief in dark times. Jesus' name has great power, and this phrase will allow us to call upon His great power in order to calm the storms in our hearts. For example, when my compulsions (checking locks, the oven, etc. repeatedly before leaving the house) flare up due to stress, I will say the phrase "Jesus, I trust in You" each time I check something. This has reduced my compulsions because I know Jesus loves me and will protect me, so proclaiming His name in these events of doubt allows me to give all of my OCD to God.
Never underestimate the power of Jesus' name. There is no greater name, and we are blessed to have Him to call upon as our Advocate, Teacher, and Shepherd when we need to find our way home. The next time you face anxiety, doubt, or darkness, say, "Jesus, I trust in You." Let His peace wash over you.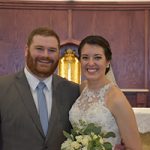 Nathalie Shultz is a joyful convert to the Catholic faith and a competitive swimmer with Obsessive Compulsive Disorder (OCD). She loves to share her passion for Catholicism with others, including her conversion story and how God continues to work miracles in her life through her OCD. She is the Director of Religious Education for the North Allegan Catholic Collaborative of parishes. Nathalie is married to her best friend, Tommy Shultz. Her favorite saints include St. Peter the Apostle, St. Teresa of Calcutta, and St. John Paul II. She is also a huge fan of C.S. Lewis. If you have any questions for Nathalie, or just want her to pray for you, you can email her at rodzinkaministry@gmail.com.