Each night as I tuck my boys into bed, I pray with them. We tell Jesus and Mother Mary how much we love them and pray for all of our family members. They each have a crucifix in their room to remind them of God's presence, and I plant kisses on their cheeks and the Sign of the Cross on their foreheads to remind them of mine. Just before I close their door, we recite the Guardian Angel prayer and they drift off to sleep knowing of their protection.
I remember my Dad talking to us about our Guardian Angels as a child. He would tell us that we each had one and their job was to protect us and watch over us. He even called his own by name and claimed he was the patron of parking spots. When we went to an event where parking space was limited, and we had been driving around for a few minutes with no luck, he would ask his guardian angel for help, and he would quickly find a spot…every time. I began to realize that we could have more than just a superficial realization of our guardian angel's existence in our lives; we could form a relationship with them.
Our guardian angels remind us of our frailty, they remind us of our humanness, of our dependence on an Almighty God and His heavenly helpers. Any day of the week, at any moment we could find ourselves at death's door, yet God sends us His angels to keep us safe until our time comes.
Perhaps that is why today's Gospel speaks of the angels in the context of children.
"Amen, I say to you, unless you turn and become like children, you will not enter the Kingdom of heaven. Whoever humbles himself like this child is the greatest in the Kingdom of heaven. And whoever receives one child such as this in my name receives me. See that you do not despise one of these little ones, for I say to you that their angels in heaven always look upon the face of my heavenly Father." (Mt 18)
Perhaps you have your own children to tuck into bed each night, perhaps you have grandchildren or nieces and nephews you enjoy watching grow up, but whether you do or don't, don't ever forget your own childlikeness. For you are and always will be a child of your heavenly Father. You are a child, and your guardian angel, who watches over you, is gazing on the heavenly Father's face. May that thought bring you peace and joy this day.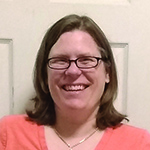 Tami grew up in Western Michigan, a middle child in a large Catholic family. She spent early young adulthood as a missionary in Mexico, studying theology and philosophy, then worked and traveled extensively before finishing her Bachelor's Degree in Western Kentucky. She loves tackling home improvement projects, finding fun ways to keep her four boys occupied, quiet conversation with the hubby and finding unique ways to love. She works at Diocesan, is a guest blogger on CatholicMom.com and BlessedIsShe.net, runs her own blog at https://togetherandalways.wordpress.com and has been doing Spanish translations on the side for almost 20 years.