Every time I catch myself doing or saying or even thinking something unkind, and every time I chastise myself for it, I'm generally able to look to Scripture and find that while my reaction was indeed not top-notch, it was still pretty normal. Look at the disciples! They had the gift of the ongoing presence of Jesus, physically, every day, and still, they consistently exhibited the most human—and negative—of traits.
Today's reading is no exception. Here Jesus is preaching humility while at the same time the disciples are arguing—essentially—over which one of them is the greatest. Seriously? I find this scene so difficult to imagine! These men who left lives, families, income, everything behind to follow Jesus in humility and simplicity, are now sitting around bragging and arguing. What's wrong with this picture?
An argument arose among the disciples about which of them was the greatest. Jesus realized the intention of their hearts and took a child and placed it by his side and said to them, "Whoever receives this child in my name receives me, and whoever receives me receives the one who sent me. For the one who is least among all of you is the one who is the greatest."
Jesus manages not to lose his temper with his slow-witted band. Don't you see, he is saying, this isn't the way to go. It's about making yourself small, not big. It's about modesty, not boasting. It's about humility, not grandiosity. This child is closer to the Kingdom than you are.
And then John, perhaps in a desperate attempt to change the subject and deflect Jesus' criticism, says, "Oh, and by the way, we did do something good. We saw this guy who isn't one of us, he's not part of the inner circle, and there he was, casting out demons in your name! We put a stop to that pretty quickly!" He and the other disciples were probably exchanging congratulatory glances with each other, maybe even a first-century high-five or two. Okay, so maybe they shouldn't have done that "who's the greatest" contest, but for sure Jesus is going to approve of this!
And then Jesus says something truly extraordinary.
Then John said in reply, "Master, we saw someone casting out demons in your name and we tried to prevent him because he does not follow in our company." Jesus said to him, "Do not prevent him, for whoever is not against you is for you."
I've belonged to exclusive clubs and even cliques before. You probably have, too. We bond with people with whom we have things in common, and the way we know we belong is because we exclude other people. And because others are excluded, there's a certain excitement about belonging; we're special because we belong, and we're special because others don't belong. It's all pretty circular. I remember in particular in primary school I was part of a singularly idiotic group with a secret password; if you didn't have the password, then you weren't One Of Us.
As adults, we've extended that sense of who belongs—and even more importantly, who doesn't—into every facet of our lives, and we do it, at least in part, to underline that same sense of specialness. Smart people join Mensa. College graduates form alumni associations. People descended from various ethnic groups drink at exclusive clubs. Invitation-only parties help us rank ourselves and others. And of course it goes even deeper: we distrust those people who aren't part of our groups. We label them as "different," as "other," as not part of "the norm." And the consequences of this need to feel special is that we're right back to arguing who's the greatest.
Jesus is consistently about inclusion rather than exclusion, about sharing rather than denying, about acceptance rather than rejection. Here he takes it a step further: if someone has not actually pronounced themselves as your enemy, then you have no reason to reject them.
Think about that for a moment. I can only see someone as "The Other" if they have, essentially, threatened me harm. The rest of the world? It's just like me. Dresses differently, speaks differently, thinks differently—but is just like me.
For Jesus, there is no "Other." There is only a whole vast world of people who do not yet have the gift of the knowledge of the Kingdom of God. We have that privilege. It's not something to brag about, any more than we can brag about where we were born, or into what societal group. No one is greatest by virtue of the accident of their birth. If we are Catholic, we would do well to feel grateful for the way the world arranged for that to happen, not be disdainful of those not so fortunate.
As we look forward to this fall and to the liturgical season of Advent, we might do well to remember that Christ was born a helpless baby, to poor parents who immediately became refugees, that he never went to college, never owned a house, and that he spent most of his time with people we would most decidedly think of as "the Other."
Today's Scripture reminds us that we're not alone when we mess up; but it also shows quite graphically what that messing up looks like. The picture here of the disciples is anything but flattering. How many times in the past week would we have numbered among them? How many times would Jesus have had to remind us of God's priorities?
Christianity isn't a club. We shouldn't have hidden passwords or secret handshakes. We shouldn't judge ourselves better than anyone else. Jesus calls us to welcome the whole world into our hearts.
Today is a good time to start.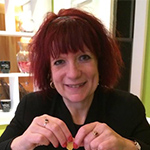 Jeannette de Beauvoir is a writer and editor with the digital department of Pauline Books & Media, working on projects as disparate as newsletters, book clubs, ebooks, and retreats that support the apostolate of the Daughters of St. Paul at http://www.pauline.org.