Think back to the last time you prayed. Maybe it was a few minutes ago, or maybe it's been a few days. You might have knelt down on a very used kneeler in a church before our Lord or made the sign of the cross laying comfortable in bed. There are many different ways to pray, but all too often, I think we approach prayer as if it's a grocery list.
We make a list of the things we have done wrong to ask forgiveness for and the things we want to happen that we ask in petition. I know I am guilty of this where I think through the list and pray on each item as if it's passing on a conveyor belt. This isn't necessarily a bad thing, but if it becomes our only form of prayer, I think it turns God into someone who doesn't truly care.
We can pray through our list of items and make sure we don't forget anything with the thought that if we forget one, God won't hear it. We pray over and over for the same things, not seeing God work in our lives because we are so hyperfocused on our list. We get frustrated at the meticulous planning it takes to talk to our God.
I hope I'm not the only one who has done this in the past. The reality is that we can use prayer as a litmus test, "If God doesn't answer this specific petition in the way that I desire than He is holding out." But what about the things we don't pray for? What about the miracles that happen every day in our lives without any petition from us? God is working in our lives every day, and he is often moved to compassion and pity for us, just like he was in the Gospel. You notice, they didn't ask for healing. It was Christ who was moved to heal.
We have a loving God. He has a perfect will and knows what is ultimately best for us. Sometimes in prayer, we don't know what is best for ourselves, but God always knows, and it's in those moments that he goes beyond our prayer and is moved to help us. I invite you today to take a moment and put aside the list. Ask the Holy Spirit to come into your heart and show you all the ways today that God has been moved to pit for you. That He has done miracles in your life. That He does care. When we focus on the reality of the love of God, our prayer is renewed because it's no longer a list or a chore but a love letter to our God. From all of us here at Diocesan, God Bless!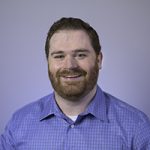 Tommy Shultz is a Solutions Evangelist for Diocesan. In that role, he is committed to coaching parishes and dioceses on authentic and effective Catholic communication. Tommy has a heart and a flair for inspiring people to live their faith every day. He has worked in various youth ministry, adult ministry, and diocesan roles. He has been a featured speaker at retreats and events across the country. His mission and drive have been especially inspired by St. John Paul II's teachings. Tommy is blessed to be able to learn from the numerous parishes he visits and pass that experience on in his presentations. Contact him at tshultz@diocesan.com.