We adore you, O Christ, and we bless you,
Because by your Cross you have redeemed the world.
The other day, my Pastor was sharing how he studied Greek in his undergrad seminarian years. He loved it because it allowed him to read and understand Scripture in a deeper way. One single detail that he shared has left me pondering this Gospel in a different way today. He shared that the word "believe" in the Greek language, can actually be closer to the word "trust" in English. He shared that throughout the Gospels, when Jesus asks, "Do you believe in me?" It can be a closer translation that Jesus is saying, "Do you trust me?".
In our First Reading today, I feel for the Israelites as they moan and groan throughout their journey. They're tired and starting to doubt, asking the question "why?". In this moment of despair, it's obvious they were losing trust in God. They did not trust in where they were being led and full of complaints… If we're honest, we've all been there. We've all hit the human points where we ask God why and our "patience is worn out by the journey", just like theirs was.
God punishes them for their sins, but his anger does not last. He offers them the bronze serpent, mounted on a pole, and whenever anyone who had been bitten by a serpent looked at it, he lived. The Responsorial Psalm states that God is merciful, forgave their sin, and did not destroy them. He often turns back his anger and does not let his wrath be roused. Do not forget the works of the Lord!
Jesus states in the Gospel today that "just as Moses lifted up the serpent in the desert, so must the Son of Man be lifted up, so that everyone who believes in Him may have eternal life." Yes, Jesus is the Incarnation, God made Man. Our human condition is lifted up because of this. We, as human beings, are loved so radically that God gave up His only Son, so that "everyone who believes in him might not perish, but might have eternal life." This is stated two times in today's Gospel message. I would like you to change the word to trust… So that everyone who trusts in Him might have eternal life. The Israelites were losing their trust in the trenches of the journey. The loss of trust is the start of sin. May we not only believe, but trust deeper in our Lord. In the ways that seem unclear and challenging. In the parched and hungry moments of our journey, may we entrust our entire lives to Him and to His will. What does trusting the Lord look like for you? Where can you grow in trusting Him? Personally, this is where the Lord is calling me to grow and I hope in some way He is calling you to a deeper trust too.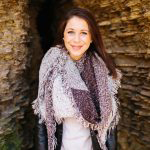 Briana is the Pastoral Minister at St. Mark Church in Cleveland, OH. She is also a district manager at Arbonne. She received her Bachelor of Arts in Theology and Catechetics from the Franciscan University of Steubenville, OH and is excited to use these skills to serve the Church. "My soul has been refined and I can raise my head like a flower after a storm." -St. Therese