The changing of seasons is always so bittersweet. Beach season turns into orchard season. Shorts are exchanged for pants. Evenings and mornings turn cool, and if they hit the 50's, you might even be able to see your breath already. The days get shorter, and the darkness invades earlier. Thoughts turn toward warm apple cider, hot chocolate, and the holidays. And although I haven't started singing Christmas carols quite yet, I have thought about Halloween costumes, who we will spend Thanksgiving with and which of my kids will need new snow pants.
The seasons are also changing in my personal life as crises are being resolved, projects are being completed and the boys are back to school. Whatever hasn't been resolved I have resigned to, trying my best to leave it in God's hands and in His time. In this world of constant change, I long for a steady routine, a predictable life, one that I can throw some occasional fun into.
But today's readings remind me that no matter what season I find myself in, God is there. In seasons of hardship, "He is before all things, and in him all things hold together." In seasons of in-between He "reconcile[s] all things for him, making peace by the Blood of his cross." In seasons of tranquility, "all the fullness was pleased to dwell." (from Col 1:15-20)
Whenever I feel like everything is crashing down before my eyes, I remind myself to turn to gratitude. No matter how hard things are, there are always many things to be grateful for. My children are hyper, loud, and crazy, yet they are healthy and loving. My house is messy, and I step on toys constantly, but I have a roof over my head. I am stretched thin financially, but we have food on the table. I am exhausted, but it is because I have a job where I work hard and a family to come home to. No matter how little I seem to have, in reality, I have so much. So today I choose to "Come with joy into the presence of the Lord."
Sing joyfully to the LORD, all you lands;
serve the LORD with gladness;
come before him with joyful song.
Know that the LORD is God;
he made us, his we are;
his people, the flock he tends.
Enter his gates with thanksgiving,
his courts with praise;
Give thanks to him; bless his name.
For he is good,
the LORD, whose kindness endures forever,
and his faithfulness, to all generations. (Psalm 100)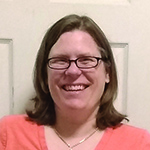 Tami grew up in Western Michigan, a middle child in a large Catholic family. She spent early young adulthood as a missionary in Mexico, studying theology and philosophy, then worked and traveled extensively before finishing her Bachelor's Degree in Western Kentucky. She loves tackling home improvement projects, finding fun ways to keep her four boys occupied, quiet conversation with the hubby and finding unique ways to love. She works at Diocesan, is a guest blogger on CatholicMom.com and BlessedIsShe.net, runs her own blog at https://togetherandalways.wordpress.com and has been doing Spanish translations on the side for almost 20 years.