Today is the birthday of my best friend, my love, my husband. I picked this day to write a reflection for a few reasons – one of the reasons being to dedicate this to my husband, but also to share the beauty of experiencing constant conversion even though it can be scary.
Since marrying Tommy on October 13, 2018, God has left no stone unturned in our adventures of marriage so far – buying a house, adopting a puppy a month into marriage, multiple job changes, and the opportunity to enter into ministry work. All of these events have been significant changes in our lives, and to be honest; they have all been terrifying. While all of these events are significant blessings from God, and I am beyond thankful for the gifts, it has been difficult for me to embrace change in my life.
My OCD has a significant impact on how I process change, and it truly is a process for me to grow in faith through these events. Change can lead to fear because God asks us to leave what is comfortable to pursue holiness, and it is difficult to be uncomfortable. With these transitions, I have been left with feelings of fear and inadequacy. While my confidence and trust may not be constant, God is always constant in His love for me. I continue to doubt at various times throughout these situations, just like Peter doubted, but Christ stays by my side anyways.
All of these changes in my life have been a blessing, and they all have led me to where God wants me at this moment. I am thankful for my husband, our puppy, our home, and my ministry position. Amidst the chaos God reminds me that He has me right where He wants me and that I need not look back at things of the past – I have been changed so as to help me live as a saint right where He has me and to lead my husband to the same destiny of sainthood.
As I close this writing I want to thank my husband: he meets me where I am at, loves me the way I am, makes me laugh when I would rather stay sad, and supports me in my endeavors. While I often don't love myself, he reminds me of my worth, of my identity in Christ. When in my darkest moments of anxiety, he holds me close and continues to lead me to Heaven. Thank you for all you do for our family, Tommy. You are a true gift, and I wish you the happiest birthday.
To all of our readers, I pray God blesses you with trust in His plans, with courage amidst change, and the endurance to embrace any anxiety that you may face amidst all of life's transitions. Remember that every day that you choose to embrace God's plan is another day that you will be transformed into more of a saint than the day before.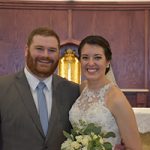 Nathalie Shultz is a joyful convert to the Catholic faith and a competitive swimmer with Obsessive Compulsive Disorder (OCD). She loves to share her passion for Catholicism with others, including her conversion story and how God continues to work miracles in her life through her OCD. She is the Director of Religious Education for the North Allegan Catholic Collaborative of parishes. Nathalie is married to her best friend, Tommy Shultz. Her favorite saints include St. Peter the Apostle, St. Teresa of Calcutta, and St. John Paul II. She is also a huge fan of C.S. Lewis. If you have any questions for Nathalie, or just want her to pray for you, you can email her at rodzinkaministry@gmail.com.