My friends, today on the memorial of St Augustine, the Church has given us readings in the Liturgy and in the Office of Readings that focus on the amazing attraction of Jesus on our souls.
St Paul so clearly describes our experience in the First reading. He says that sometimes we are "shaken out of our minds," "alarmed," "deceived." A person in this spiritual space is the one who is fearfully trying to find his or her way to salvation amid the sometimes terrifying realities around them. Paul indicates that the Thessalonians were alarmed at the imminent coming of the Lord. We are alarmed at many things that also strike at that very basic core of fear within the human heart: survival. Take a deep breath. What are you alarmed about? What news upsets your peace of soul? What family matters are overwhelmingly oppressive at this moment? Where do you worry about your or another's salvation?
Immediately St Paul refocuses our vision: you are called to possess the glory of the Lord Jesus Christ. This is what the Gospel calls you to, promises, lays out before you as an infinite horizon toward which you can walk as far as you want, and as quickly as you desire. We are called to a magnificent hope! Promised eternal glory in the Lord Jesus Christ!
I remember assuring some very fearful women who had come into our book center in Metairie, Louisiana to purchase candles in preparation for the imminent three days of darkness prophesied by someone on a television program they had been watching, "Jesus never encouraged us to be afraid of him," I told them. "He said instead that he was going to prepare a home for us in his Father's Kingdom and that he would come to take us back there with them." They exchanged their candles for the Chaplet to the Divine Mercy and left with much peace in their soul.
God our Father has loved us and given us this everlasting encouragement that we might not live in fear any longer, but might have "good hope through his grace," and experience encouragement and strength so that our lives would flow with every good deed and word.
Certainly, this is a process. It could be that the scribes and Pharisees whom we encounter in the Gospels never had the courage to risk the trust of this adventure in truth. However, Saint Augustine, whom we celebrate this day in the liturgy, did. The reading for the Office of Readings so beautiful describes this journey made by Saint Augustine, and which is documented in his book Confessions of Saint Augustine.
Here we learn from this great convert, the essential ingredients for the spiritual growth Saint Paul calls all Christians to:
Augustine "reflected upon himself."
He entered under God's guidance into the inmost depth of his soul. This is a journey that God is inviting each of us to. He himself makes this journey possible. Through his grace he is the helper of our soul.
When Saint Augustine entered within the inmost depth of his soul he discovered with the eye of the soul what was beyond him, beyond his spirit. He saw the immutable light of God's glory shining in him. "This light was above me because it had made me; I was below it because I was created by it." Within our soul we find not ourselves, not even our best selves, we discover God himself who wishes us to possess the glory of the Lord and to lay hold of the promises of the Gospel. This, as both Saint Paul and Saint Augustine say, is the truth and beloved eternity.
Discovering this truth within him, creates within Saint Augustine a sighing day and night for the one who was drawing him closer to himself so that he might see him there within him.
This truth, then, burst forth in his entire being as one great cry of love: "Late have I loved you. O Beauty ever ancient, ever new, late have I loved you! You were within me, but I was outside… You called, you shouted, you broke through my deafness… You breathed your fragrance on me; I drew in breath and now I pant for you." This journey of spiritual transformation is not one of personal growth for the purpose of becoming a better person. It is a journey to lose oneself in the ocean of Divine Splendor who touches us and burns our hearts that they might be transformed into one great longing for God himself to the point that we gradually, and finally at last, leave ourselves and self-interests behind.
May this journey that God is right now leading you into, become your chosen path, your only desire, your greatest satisfaction! Amen.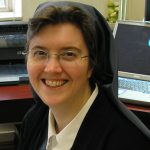 Kathryn James Hermes, FSP, is the author of the newly released title: Reclaim Regret: How God Heals Life's Disappointments, by Pauline Books and Media. An author and spiritual mentor, she offers spiritual accompaniment for the contemporary Christian's journey towards spiritual growth and inner healing. She is the director of My Sisters, where people can find spiritual accompaniment from the Daughters of St. Paul on their journey.
Website: www.touchingthesunrise.com
Public Facebook Group: https://www.facebook.com/groups/srkathrynhermes/
For monthly spiritual journaling guides, weekly podcasts and over 50 conferences and retreat programs join my Patreon community: https://www.patreon.com/srkathryn.