Have you ever gone through a period of great suffering in your life, a time when you felt like enough was enough and just couldn't go on? I mean, how many things can snowball into a stark reality before you go absolutely crazy?
In today's first reading, Gideon wondered the very same thing. Begrudged by the oppression of the Midianites, he was an unhappy man. So God sent HIM to do something about it. As I type, my body is wracked with soreness and exhaustion, my soul is bruised from wounded relationships and unexpected realizations, my mind is whirling with a hundred things that crush my thoughts. How long can this go on?
Faced with the eviction of close relatives who trashed a living space we owned, we have been forced to spend countless hours and thousands of dollars that we don't have just making it livable again. We count on the rental of this space to pay our bills and every month it lays vacant we go more and more in the hole. So each night, after working all day, my husband and I trudge over to our "side job." Most days the to-do list is so long we can see no light at the end of the tunnel. Now, with most cosmetic aspects in place and a smaller list of practical details to finish we feel a certain amount of relief. It is short-lived, however, as we realize how much work we have to do on our own home, all projects abandoned in a rush to finish the rental.
To top it all off, my husband has begun a new venture that he loves, but that also entails a certain amount of stress and takes up a good portion of his time. The kids are fighting and cocking attitudes. School is about to start. We have family visiting for a week. Did I mention we are EXHAUSTED?…the words of the Psalm come as a balm to my weary soul.
"I will hear what God proclaims; the LORD–for he proclaims peace to his people, and to his faithful ones, and to those who put in him their hope." (Ps 85)
"For everything, there is a season, even a season to suffer, to be tired and to wonder why. And in every season God is there and there is hope. For every season there is a reason. And everyone who has given up houses or brothers or sisters or father or mother or children or lands for the sake of my name will receive a hundred times more, and will inherit eternal life." (Mt 19)
Someone once told me that it was kind of nice being in the depths of the pit because you knew the only direction you could go from there was up. So here's to moving forward, to ascending the heights, with my sights on the eternal goal, my final climb heavenward. "For God, all things are possible."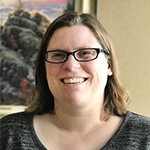 Tami grew up in Western Michigan, a middle child in a large Catholic family. She spent early young adulthood as a missionary in Mexico, studying theology and philosophy, then worked and traveled extensively before finishing her Bachelor's Degree in Western Kentucky. She loves tackling home improvement projects, finding fun ways to keep her four boys occupied, quiet conversation with the hubby and finding unique ways to love. She works at Diocesan, is a guest blogger on CatholicMom.com and BlessedIsShe.net, runs her own blog at https://togetherandalways.wordpress.com and has been doing Spanish translations on the side for almost 20 years.