Today's official liturgical celebration is "The Solemnity of the Assumption of the Blessed Virgin Mary." This is significant if we understand that there are three categories of celebrations throughout the year: Solemnities, Feasts, and Memorials.
"Solemnities" are the highest degree of Catholic celebration and so we are obliged to participate in Mass on these days – Sundays, Easter, Christmas, Pentecost, and other Holy Days of Obligation are solemn celebrations of the most important mysteries of our faith.
These are higher than "Feast Days," which are not days of obligation, but are set apart as days to honor special saints and events of salvation history, such as the Apostles, the Archangels, the Visitation, the Presentation, and the Baptism of the Lord.
The final level of importance on the liturgical calendar, and the one we encounter most often, are "Memorials," which usually honor the saints, though there are Marian Memorials as well, such as Our Lady of Fatima (May 13) and the Queenship of Mary (August 22).
With that little liturgical lesson done, it is worth asking: Why do we rank the Assumption – a dogma that was not "official" until 1950 – as a solemnity, along with Christmas and Easter?
Pius XII, in the Apostolic Constitution Munificentissimus Deus, stated: "By the authority of our Lord Jesus Christ, of the Blessed Apostles Peter and Paul, and by our own authority, we pronounce, declare, and define it to be a divinely revealed dogma: that the Immaculate Mother of God, the ever Virgin Mary, having completed the course of her earthly life, was assumed body and soul into heavenly glory."
Mary's Assumption into heaven, body and soul, means that the resurrection is not limited to Jesus alone; where the Head has gone, we are called to follow, body and soul. Knowing with the certainty of the Church's infallible teaching that Mary's whole being, body and soul, was taken into heaven, we have the certainty of knowing that there is a place for our glorified bodies as well.
So, onthis Solemnity, we are called to participate togetherinthe Eucharist and look to Mary ina particular way: as one like us (a creature, thougha sinless one) who exists to bring Jesus to us andto bring us to Jesus, andwho is alreadyfullyin heaven.
There are two human bodies in heaven and they are our BROTHER and our MOTHER, whose two Hearts beat as one with love for us! In our participation in the Eucharist we are joined already to those in heaven and to the Body of Christ on earth, and we are reminded that our destiny is beyond what we see and touch right here and now, that we are called to an eternity of love and belonging and peace beyond all understanding.
And that is a solemn celebration indeed.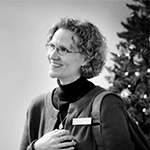 Kathryn Mulderink, MA, is married to Robert, Station Manager for Holy Family Radio. Together they have seven children (including newly ordained Father Rob and seminarian Luke ;-), and two grandchildren. She is a Secular Discalced Carmelite and has published five books and many articles. Over the last 25 years, she has worked as a teacher, headmistress, catechist, Pastoral Associate, and DRE. Currently, she serves the Church as a writer and voice talent for Catholic Radio, by publishing and speaking, and by collaborating with the diocesan Office of Catechesis, various parishes, and other ministries to lead others to encounter Christ and engage their faith. Her website is https://www.kathryntherese.com/.