I LOVE this time of year! The pace of summer touched with the anticipation of another school year. As a teacher, I am so grateful for the change of pace of summer and the opportunity to step back and prepare for all of the challenges of the coming school year. (I am even more grateful since in 2018 I had a year-round job and had some serious adjusting to do when I didn't get to set my own schedule in July. How do you do it? Lol! As much as I like summer, I also like getting back to the routine of the school year.
And that is why I love today's Old Testament Reading. God is setting out a calendar that helps the Jewish people to incorporate their worship into their day to day lives. God knew that if he didn't help them set aside days to focus on their relationship with him, the busy-ness of just living would encroach and leave them lost. It ends with, "These, therefore, are the festivals of the LORD on which you shall proclaim a sacred assembly, and offer as an oblation to the LORD burnt offerings and cereal offerings, sacrifices and libations, as prescribed for each day."
We may not celebrate the same festivals as the ancient Jews, but Holy Mother Church knows her children so well, and she provides. We too need feasts, celebrations, and solemnities to help us not to get overwhelmed with all the stuff of life and to reflect on what is essential.
As we head into the tail end of summer, use this as a time to revisit the Liturgical Calendar and think about how your family can celebrate with the universal Church. Here are some ideas for getting started:
-Look ahead to see what Saint Days are approaching. You can find information and a full calendar at the United States Conference of Catholic Bishops website. (Link: USCCB Liturgical Year Calendar) You don't need to celebrate all of them, but pick out a family favorite and perhaps a new Saint friend for the month.
-Don't forget August 15, the Assumption of Mary. Mark your family calendar now so you don't neglect going to Mass. (It is a holy day of obligation.) Plan for ice cream or treat after to make the day even more special. We should be celebrating!
-Check out Catholic Icing (Link: https://www.catholicicing.com/) She is a Catholic mom who shares her ideas for how to help her littles get in on the act of celebrating in ways that are doable for busy families and lots of fun.
-Families celebrate the day someone joins their family, try celebrating the day each member of your family joined the family of God. It doesn't need to be a huge production, but allowing children to choose a favorite food or dessert, or even better stopping to pray for 5 minutes before the Blessed Sacrament to say thank you for the gift of being in God's family is a great way for children (big and small) to remember the importance of their Baptismal Day.
-If you don't have one, create a family altar. It doesn't need to be fancy, but a small space in your home that is dedicated to God. A small crucifix and a candle are a great beginning. As you go through the year, add likenesses of the Saints (the best ones are hand-drawn!) or notes about people for whom you have promised to pray. Let children add flowers and stones and small found treasures as gifts to God. Catholic Mom's blog has some ideas from the simple to the ornate. (Link: https://catholicmom.com/2012/12/23/home-altar-ideas/
Of course, there is always Pinterest! You will find more ideas than you will know what to do with. The key, keep it simple and just start.
Blessings!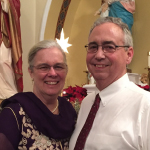 If you catch Sheryl sitting still, you are most likely to find her nose stuck in a book. It may be studying with her husband, Tom as he goes through Diaconate Formation, trying to stay one step ahead of her 5th and 6th-grade students at St Rose of Lima Catholic School or figuring out a new knitting or quilting pattern. Since every time she thinks she gets life all figured out, she realizes just how far she has to go, St. Rita of Cascia is her go-to Saint for intercession and help. Home includes Brea, a Bernese Mountain dog and Carlyn, a very, very goofy Golden Retriever.