Today is my birthday and I've been thinking a lot about what I want to wish for when I blow out my candles. I began to run through the list of things I wanted but realized that there's not much on that list that couldn't be bought on my next grocery store trip. I try to run through the list of things I need but I already have a family that loves me, a job at which I feel fulfilled, and more physical possessions than I can shove into the closet when guests come over. God has blessed me with all of this and so much more.
This year, instead of trying to come up with which physical possessions I want or what basic and psychological needs I have, I began making a list of things I want out of life over the next year, goals for myself. Things I want to achieve, hobbies I want to explore, and how I want to see myself grow.
As I turn the ripe, old age of 25 (ha!), I am understanding that material wants aren't going to satisfy me. Nope. Instead, my satisfaction and joy will come from meaningful relationships, personal growth and spiritual growth.
My relationship with my boyfriend gives me the support and encouragement I need to take new risks and know that it's okay to be scared. My deepening relationship with my parents has proven that it's okay to make mistakes and there is always forgiveness to be given. My ever-growing, ever-changing relationship with my siblings and friends remind me of the person I am and reflect the kind of person I want to become. My relationship with my Heavenly Father will help me to better understand this crazy world that we live in and reminds me of what my ultimate goal is.
Catholic speaker Mary Bielski said that we must define ourselves by our relationship to God, not by our jobs and possessions. The world tells us that since we do a certain job and have certain possessions, then we can figure out who we are and where our place is in the world. What we should be telling ourselves is that we are God's, which means that we have already been given not just this life, but the next, and we can do anything through God.
This shift in thinking has reminded me that today, my birthday, is a reminder of the life that I have been given by God. Knowing that my heart belongs to God means that I can appreciate the people in my life rather than being upset about the excess and the nonsense. I can see who I am through the eyes of God rather than through the lens of society. My flaws are loved, my sins are forgiven, my heart is nurtured, and my love is guided.
I could ask you to examine your relationship with God and others, but as I celebrate my birthday, I just feel so happy and blessed. I want to share this encompassing joy with you through our short Gospel reading of today:
I give praise to you, Father, Lord of heaven and earth,
for although you have hidden these things
from the wise and the learned
you have revealed them to the childlike.
Yes, Father, such has been your gracious will.
(Matthew 11:25-26)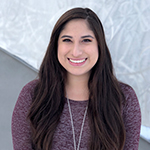 Veronica Alvarado is a born and raised Texan currently living in Michigan. Since graduating from Texas A&M University, Veronica has published various articles in the Catholic Diocese of Austin's official newspaper, the Catholic Spirit, and other local publications. She now works as the Content Specialist in Diocesan's Web Department.