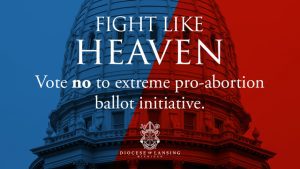 There are many ways to give in an effort to affirm life and prevent the extreme nature of proposal 3.
The weekend of September 24th and 25th there will be a training opportunity that will take place the weekend of September 24-25 to equip volunteers to go out to their neighborhoods and spread the word about this dangerous and extreme proposal.
Where: The Four Diocesan High Schools
When: September 24: Flint Powers and Ann Arbor Fr. Gabriel Richard
September 25: Lansing Catholic Central and Jackson Lumen Christi
What time: 7-8pm
Needed: Volunteers who would be willing to be trained at one of these training sessions to go out two-by-two and canvass neighborhoods about this dangerous amendment.
We will meet as a parish with all those who have been trained to go door to door and decide on which neighborhoods to reach.