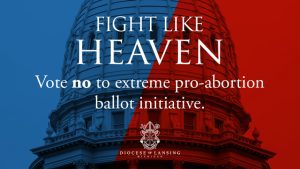 Bishop Boyea has recently issued a pastoral letter addressing the seriousness of the abortion ballot initiative. Every person in made in God's image and likeness. The proposed initiative seeks to eliminate dozens of Michigan law such as:
-laws that prohibit partial-birth abortion
-informed medical consent laws
-24-hour waiting periods
-taxpayer funded abortion
-laws that require abortion facilities to be licensed and inspected by the State of Michigan
-laws that prosecute anyone who injures or kills a woman during an abortion
-and laws that protect the conscience rights of persons who refuse to participate in abortion such as doctors and nurses.
Read Bishop Early Boyea's Pastoral Letter in Entirety: pastoralletterbishopearlboyea (1)
Bishop has asked every parishioner to begin a 54 day rosary novena beginning on Thursday, September 15th on the Feast day of Our Lady of Sorrows.
FOCUS from the Michigan Catholic Conference – To read this issue on Proposal 3  CLICK HERE