Catechetical Overview provides students in grades 8-11 discerning Confirmation with an opportunity to review the content of the Faith, grow in community with other parish teens, and prayerfully consider their call to the sacrament.
Classes occur monthly in the spring of each year. After completing the overview, students may enroll in Confirmation preparation during the fall of their 9th-12th grade years. The two courses do not have to be completed in consecutive years.
Due to current COVID restrictions, the parent meeting for all interested 8th grade parents is available here.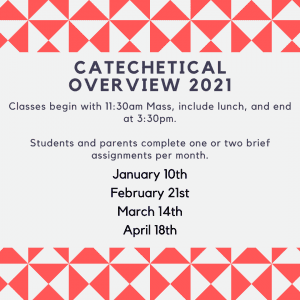 The following links will help guide you and your child through Catechetical Overview:
Discernment Guide:  This guide helps discerning students and parents cultivate a desire for Confirmation. It is a goal that all Christians must strive to attain, and active striving should be easily seen in all those seeking the sacrament.
Formed.org: We will be using Symbolon for YDisciple during the at-home parent/child sessions. Please make sure you have registered for your free Formed.org membership. If not, choose "I belong to a parish" and search "St. Mary Pinckney, MI". Then you can make a username and password for the site. Students will receive instructions on which videos to watch at the end of each class.