We are dedicated to promoting excellence in catechesis, that is, the lifelong Christian formation of the total person in heart, mind, and will. We are dedicated to encouraging and preparing young people to live Christ's message through formation in education, faith, prayer, worship, community, moral development, and service. Our Religious Education program has several options to help families pass their faith on to their children, please visit our Religious Education page for more information.
Family Religious Education Program (FREP)
Saint Mary Religious Education will be moving to a Family Religious Education Program starting in September 2018. This change will allow parents and students to encounter God and learn more about Him together. The following document provides a basic overview of the new program, which should be engaging, fulfilling, and fun for all!
FREP is a Religious Education program that places parents as the primary catechist by having them work with their children 30 minutes a week for three weeks in a row. Parents and children use a provided lesson plan and their child's textbook to help guide them through their lessons. At the end of three to four weeks, the entire family meets at church for food, fellowship, and a group lesson taught by catechists and prayer to be renewed for the upcoming month.
Registration Materials
Please register your child online using the link below. Then, complete and return the release documents via email to info@stmarypinckney.org or via hardcopy by turning them in at the parish office.
Please use the Payment Worksheet to determine your Religious Education payment for the 2018-2019 year.
If you are not a Saint Mary Pinckney parish member but would like to enroll in Religious Education, please call the office at (734) 878-3161.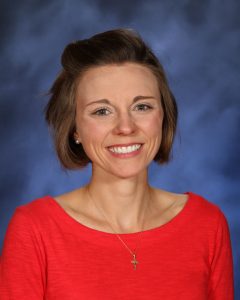 Director of Evangelization and Catechesis
Sarah Salow
ssalow@stmarypinckney.org
(734)878-2217