We are dedicated to promoting excellence in catechesis, that is, the lifelong Christian formation of the total person in heart, mind, and will to prepare young people to live Christ's message through formation in education, faith, prayer, worship, community, moral development, and service. Our Religious Education program has several options to help families pass their faith on to their children.
St. Mary Religious Education Program
St. Mary Religious Education allows parents and students to encounter God and learn more about Him together. In summer 2021, we will participate in a foundational opportunity called the Domestic Church Project. This 6-week foundation will be self-paced over the course of 10 weeks. Domestic Church Project only requires families with children ages 2-18 to listen to a 5-minute podcast, have 5 minutes of discussion using pre-written questions, and participate in a 5-minute family activity. Through these small steps, families will begin to bring Jesus to the center of life of their family.
Once our summer is complete, students and parents will participate in monthly parent and child catechesis using an updated, easy to follow curriculum. Additionally, we are launching a pre-K3-1st grade program called Catechesis of the Good Shepherd (CGS). CGS will run concurrently with our monthly sessions to provide sound catechesis to our youngest members.
To register for our Domestic Church Project and religious education program, please see the information below.
Registration Materials
Please use this link to register. You will need scroll to Religious Education and choose your child(ren)'s grade(s) from the drop down.
Religious Education will be offered at no cost this year, but we encourage you to place donations into the weekly offering as you feel led. 
If you are not a St. Mary Pinckney parish member but would like to enroll in Religious Education, please call the office at (734) 878-3161.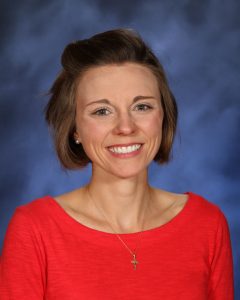 Director of Evangelization and Catechesis
Sarah Salow
ssalow@stmarypinckney.org
(734)878-2217