We are dedicated to promoting excellence in catechesis, that is, the lifelong Christian formation of the total person in heart, mind, and will. We are dedicated to encouraging and preparing young people to live Christ's message through formation in education, faith, prayer, worship, community, moral development, and service. Our Religious Education program has several options to help families pass their faith on to their children, please visit our Religious Education page for more information.
St. Mary Religious Education Program
St. Mary Religious Education allows parents and students to encounter God and learn more about Him together. We have updated our program to meet the needs of families during this unprecedented time. Using the monthly retreat guide, families will meet Jesus and bring him to the center of their family. Parents will attend catechesis sessions alternating for fathers and mothers each month. Students will not have class in-person but will return their weekly retreat reflections at any Mass or via email.
We look forward to learning and worshipping together this year and will keep you updated regarding any changes.
Registration Materials
Please register your child online using the link below. Then, complete and return the release documents via email to info@stmarypinckney.org or via hardcopy by turning them in at the parish office.
Religious Education will be offered at no cost this year, but we encourage you to place donations into the weekly offering as you feel led. 
If you are not a St. Mary Pinckney parish member but would like to enroll in Religious Education, please call the office at (734) 878-3161.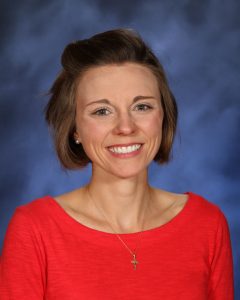 Director of Evangelization and Catechesis
Sarah Salow
ssalow@stmarypinckney.org
(734)878-2217