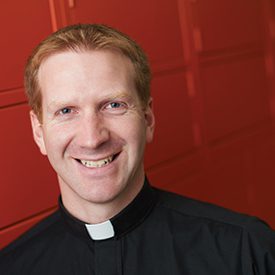 A Report from Bishop Boyea on the Clergy Sex Abuse Scandal
Letter form Bishop Boyea Regarding Archbishop McCarrick – Bishop.Boyea.Letter.RE.McCarrick
Bishop Robert Barron on the Sexual Abuse Crisis
Father Dan's Response 
September 22, 2018
Outdoor Eucharistic Procession & Diocesan Assembly!
Be sure to register today for the September 22nd Eucharistic Procession that is part of the Made for Happiness Assembly. The Eucharistic Procession begins at St. Mary Cathedral in Lansing and will follow a four-mile route to the site of the Assembly's afternoon events at the Breslin Center on the campus of Michigan State in East Lansing. You are welcome to join in for the whole four-mile route or just a portion of it. Parish groups and ministries are invited to participate as a group by making and carrying a banner of their organization or apostolate.
The procession will be live streamed to the Breslin Center for those who prefer to participate remotely. Doors will open at 7:00 am and a free shuttle service will begin at that time from the Breslin Center. To learn more about the September 22 Eucharistic Procession and to register for the full day of events that are part of the Made for Happiness Assembly, refer to the website: madeforhappiness.org.
Be sure to register early because space at the Breslin Center is limited!
God of power and mercy, you destroy war and put down earthly pride.  Banish violence from our midst and wipe away our tears,
that we may all deserve to be called your sons and daughters.
Keep in your mercy those men and women who have died in the cause of freedom
and bring them safely into your kingdom of justice and peace. We ask this though Jesus Christ our Lord. Amen.
—Catholic Household Blessings and Prayers
Memorial Day Mass will be held on Monday, May 28, 2018 at 8:30 am at St. Mary Cemetery (Mower Rd., Pinckney). Weather Permitting.
The feast of Pentecost is a reminder of the mission that Jesus has given His Church, and it is also an invitation to receive, through the Holy Spirit, a deeper relationship with Jesus. At His Ascension, Jesus entrusts His disciples with the task of preaching the Gospel to the whole world, baptizing and making disciples. Since this mission cannot be carried out by mere human strength, Jesus sends His Holy Spirit upon the Church at Pentecost. We hear in Acts chapter 2 about people speaking in different languages and of the Holy Spirit being powerfully and visibly present. From this moment, the Church is changed; Jesus' followers are no longer locked away in a room out of fear of being arrested. They begin to preach in Jerusalem and throughout and beyond the Roman Empire despite being arrested often. The same men who were too scared to follow Jesus to the cross on Good Friday were transformed to the point of shedding their own blood in testimony to Christ. Receiving the Holy Spirit at Pentecost made all the difference in the world. This same outpouring of the Holy Spirit is what we ask to receive in our time. The Church is calling for Catholics to pray for a new Pentecost; a new powerful outpouring of the Holy Spirit upon the Church. Because Jesus promised that He would dwell in us through the Holy Spirit, we have confidence that this is what He will give us; "Anyone who loves me will obey my teaching. My Father will love them, and we will come to them and make our home with them… the Advocate, the Holy Spirit, whom the Father will send in my name, will teach you all things and will remind you of everything I have said to you" (John 14:23). In our time, the Lord would remind us of these words, because we ourselves are to be "clothed with power" (Luke 24:49) in order to follow Jesus and preach the Gospel to everyone in our lives. Jesus invites us to participate in the mission that He gives to His friends and promises that He will dwell within us always.
Fr. Dan