This Gospel reading is a beautiful opportunity for us to pause and reflect on our real goals in life. It is easy to get caught up in the great hamster wheel of life and forget the most important mission we are on is to be with Jesus for all of eternity.
In this Gospel passage, we are reminded that wealth and money are not a sign of being part of God's favored people but rather a real warning that these blessings come with tremendous responsibility to others.
Our goal in life should never be to be rich but rather to live in a way that resembles Jesus. We need to be careful that we do not spend our entire life "chasing our dream of money and significant wealth" and forget the real task at hand to grow closer to Christ and live out our faith. Our jobs are a means to provide for our family and an opportunity to do good for others, but they should not distract us from our end goal, heaven.
Jesus is evident in this Scripture about the great reward waiting for us in heaven if we are willing to live out the Gospel message. Peter is much like all of us as he evaluates if it is worth giving it all up. He is even bold enough to ask the ageless question of whether it is worth following Christ and giving up everything. His straightforward manner allows us to hear this tremendous answer from Jesus,
"Amen, I say to you that you who have followed me, in the new age, when the Son of Man is seated on his throne of glory, will yourselves sit on twelve thrones, judging the twelve tribes of Israel. And everyone who has given up houses or brothers or sisters or father or mother or children or lands for the sake of my name will receive a hundred times more, and will inherit eternal life. But many who are first will be last, and the last will be first."
Jesus is reminding us of the glory that awaits us in heaven, and he tells us in a straightforward way that true happiness in this life and the next comes from how we live our lives. This Gospel also reinforces how priests and religious who give up family, home, and even homeland for the sake of the Kingdom will be eternally blessed.
---
Esta lectura del Evangelio es una hermosa oportunidad para pausar y reflexionar sobre cuales son nuestras metas verdaderas en esta vida. Es fácil quedar atrapado en la gran rueda de hámster de la vida y olvidar que la misión más importante que tenemos es estar con Jesús por toda la eternidad.
En este pasaje del Evangelio, se nos recuerda que la riqueza y el dinero no son una señal de ser parte del pueblo favorecido de Dios, sino una advertencia real de que estas bendiciones vienen con una tremenda responsabilidad para con los demás.
Nuestro objetivo en la vida nunca debe ser hacernos ricos, sino vivir de una manera que se asemeje a Jesús. Debemos tener cuidado de no pasar toda nuestra vida "persiguiendo nuestro sueño de dinero y una riqueza significativa" y olvidarnos de la verdadera tarea que tenemos entre las manos para acercarnos más a Cristo y vivir nuestra fe. Nuestros trabajos son un medio para mantener a nuestra familia y una oportunidad de hacer el bien a los demás, pero no deben distraernos de nuestro objetivo final, el cielo.
Jesús es claro en esta Escritura acerca de la gran recompensa que nos espera en el cielo si estamos dispuestos a vivir el mensaje del Evangelio. Pedro se parece mucho a todos nosotros cuando evalúa si vale la pena dejarlo todo. Incluso es tan audaz como para hacer la eterna pregunta de si vale la pena seguir a Cristo y renunciar a todo lo demás. Su manera directa nos permite escuchar esta tremenda respuesta de Jesús:
"Yo les aseguro que en la vida nueva, cuando el Hijo del hombre se siente en su trono de gloria, ustedes, los que me han seguido, se sentarán también en doce tronos, para juzgar a las doce tribus de Israel. Y todo aquel que por mí haya dejado casa, o hermanos o hermanas, o padre o madre, o esposa o hijos, o propiedades, recibirá cien veces más y heredará la vida eterna. Y muchos primeros serán últimos y muchos últimos, primeros.''
Jesús nos está recordando la gloria que nos espera en el cielo, y nos dice de manera directa que la verdadera felicidad en esta vida y en la próxima viene de cómo vivimos nuestras vidas. Este Evangelio también refuerza cómo serán eternamente bendecidos los sacerdotes y religiosos que dejen la familia, el hogar e incluso la patria por causa del Reino.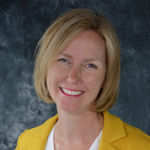 Emily Jaminet is a Catholic author, speaker, radio personality, wife, and mother of seven children. She earned a bachelor's degree in mental health and human services from the Franciscan University of Steubenville.  She is the co-founder of www.inspirethefaith.com and the Executive Director of The Sacred Heart Enthronement Network www.WelcomeHisHeart.com. She has co-authored several Catholic books and her next one, Secrets of the Sacred Heart: Claiming Jesus' Twelve Promises in Your Life, comes out in Oct. 2020. Emily serves on the board of the Columbus Catholic Women's Conference, contributes to Relevant Radio and Catholic Mom.com.
Feature Image Credit: cathopic_1488495306931388.jpg