**This reflection is being posted for Aug 8th. Due to a technical issue, it did not post.**
There is a lot going on in today's readings, from Ezekiel's vision of the glory of God, to Jesus predicting his death — one of three times that happens in Matthew's Gospel — to the miracle of the coin in the fish's mouth. Then you also have the feast day of St. Dominic, founder of the Order of Preachers. Where does one focus? Where can you find the most meaning? Holy Spirit, will you help me, please?
We really have to begin with Ezekiel, because the lesson there is where I think we'll end up by the end of this reflection. There are angels, there is a throne of sapphire, there is a rainbow-like background, and there is the Lord, appearing like fire and gleaming metal. If you read on in the book, you'll see God shows this glory to Ezekiel before He sends him to be a prophet to Israel, even warning him that they won't accept him, and worse. But Ezekiel goes despite these impossible odds. Such is the power of God's glory.
Our Psalm reflects that glory, and it instructs us what to do about it: Praise the Lord! His name alone is exalted; His majesty is above, and beyond, earth and heaven!
Then, in Matthew's Gospel, Jesus' disciples are overwhelmed with grief when He tells them that He will be put to death. Did they not hear the part about rising on the third day? Maybe we can understand their reaction, since we know how hard it was for them to understand what "rising from the dead" meant before it actually happened. But Matthew moves quickly from this interaction to the question of the temple tax. Does Jesus pay it? Peter says yes, but we are left to wonder, was Peter lying? Was he covering for Jesus? It doesn't really matter, because Jesus knows what's up, and He brings it up to Peter with no prompting at all. Who gets taxed? The tax is levied on foreigners. Jesus is hinting to Peter and to us that we are foreigners not of this world, and we belong, or should belong, to a far greater kingdom, the one that appeared to Ezekiel in his vision.
Jesus performs the miracle of the coin in the fish's mouth, as He says, "that we may not offend them." In other words, let's pay them their tax so such minor issues cannot impede them or us from knowing the truth that Jesus is the Messiah, that He came to Earth to be sacrificed for our wrongs, and that through His conquering death and resurrection, we, too, can participate in the glory of the Lord.
The path to eternal communion with our loving God is clear, then. Through the difficulties we encounter as Ezekiel did, through the mundane of everyday life like Peter was confronted with, in all things, our focus needs to be on the glory of God as our destination. Praise the Lord! Pray always. Be like St. Dominic and pray the rosary constantly. Put it all in the perspective that being with God in His glory is our only goal.
---
Están sucediendo muchas cosas en las lecturas de hoy, desde la visión de Ezequiel de la gloria de Dios, hasta Jesús prediciendo su muerte, una de las tres veces que sucede en el Evangelio de Mateo, hasta el milagro de la moneda en la boca del pez. Luego hoy también es la fiesta de Santo Domingo, fundador de la Orden de Predicadores. ¿Dónde se enfoca uno? ¿Dónde puedes encontrar el mayor significado? Espíritu Santo, ¡ayúdame, por favor!
Realmente tenemos que comenzar con Ezequiel, porque la lección allí es donde creo que vamos a terminar al final de esta reflexión. Hay ángeles, hay un trono de zafiro, hay un fondo como un arco iris, y allí está el Señor, que aparece como fuego y metal reluciente. Si sigues leyendo, verás que Dios le muestra esta gloria a Ezequiel antes de enviarlo como profeta a Israel, incluso advirtiéndole que no lo aceptarán, y cosas peores. Pero Ezekiel va a pesar de estas probabilidades imposibles. Tal es el poder de la gloria de Dios.
Nuestro Salmo refleja esa gloria, y nos instruye qué hacer al respecto: ¡El nombre del Señor alaben todos, pues su nombre es excelso; su gloria sobrepasa cielo y tierra!
Luego, en el Evangelio de Mateo, los discípulos de Jesús se llenan de dolor cuando Él les dice que lo matarán. ¿No escucharon la parte acerca de resucitar al tercer día? Tal vez podamos entender su reacción, ya que sabemos lo difícil que fue para ellos entender lo que significaba "resucitar de entre los muertos" antes de que realmente sucediera. Pero Mateo pasa rápidamente de esta interacción a la cuestión del impuesto del templo. ¿Jesús lo paga? Peter dice que sí, pero nos quedamos preguntándonos, ¿Peter estaba mintiendo? ¿Estaba defendiendo a Jesús? Realmente no importa, porque Jesús sabe lo que pasa, y se lo cuenta a Pedro sin ninguna indicación. ¿Quién paga impuestos? El impuesto se aplica a los extranjeros. Jesús le está insinuando a Pedro y a nosotros que somos extranjeros, no de este mundo, y pertenecemos, o deberíamos pertenecer, a un reino mucho más grande, el que se le apareció a Ezequiel en su visión.
Jesús realiza el milagro de la moneda en la boca del pez, como dice, "para no darles motivo de escándalo". En otras palabras, paguémosles su impuesto para que esos problemas menores no les impidan a ellos ni a nosotros conocer la verdad de que Jesús es el Mesías, que vino a la Tierra para ser sacrificado por nuestros errores, y que a través de Su muerte y resurrección vencedora nosotros también podemos participar en la gloria del Señor.
Entonces, el camino hacia la comunión eterna con nuestro Dios amoroso es claro. A través de las dificultades que encontramos como lo hizo Ezequiel, a través de lo mundano de la vida cotidiana como lo enfrentó Pedro, en todas las cosas, nuestro enfoque debe estar en la gloria de Dios como nuestro destino. ¡Alabado sea el Señor! Oren siempre. Sean como Santo Domingo y recen el rosario constantemente. Ponlo todo en la perspectiva de que estar con Dios en Su gloria es nuestra única meta.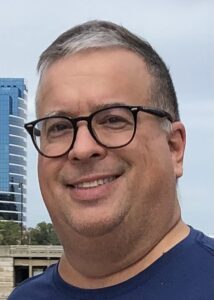 Mike Karpus is a regular guy. He grew up in Michigan's Upper Peninsula, graduated from Michigan State University and works as an editor. He is married to a Catholic school principal, raised two daughters who became Catholic school teachers at points in their careers, and now relishes his two grandchildren, including the 3-year-old who teaches him what the colors of Father's chasubles mean. He has served on a Catholic School board, a pastoral council and a parish stewardship committee. He currently is a lector at Mass, a Knight of Columbus, Adult Faith Formation Committee member and a board member of the local Habitat for Humanity organization. But mostly he's a regular guy.
Feature Image Credit: images.unsplash.com/photo-1526385092893-3c2356624514?ixlib=rb-1.2.1&ixid=MnwxMjA3fDB8MHxwaG90by1wYWdlfHx8fGVufDB8fHx8&auto=format&fit=crop&w=1068&q=80