"Who is the greatest?" Who is the richest? Who is the fastest? Who is the thinnest? Who has the most followers? Who is the most beautiful? Who has the most "likes"? Who is the best?
These are very human questions, which the world tries to keep us focused on – being better, stronger, richer, happier, more attractive, MORE EVERYTHING, GREATER. And Jesus is repeatedly turning these worldly ideas upside down, just like he overturned the tables of the moneychangers. He keeps saying: YOU'VE GOT IT ALL WRONG. YOU'VE GOT IT ALL BACKWARDS. LOOK AT ME.
The disciples are still trying to understand the realities of the Kingdom Jesus came to establish, but they are still looking at it through very human lenses. They are still looking at what "greatest" means in human terms, making comparisons with the leaders of human kingdoms. And Jesus keeps turning their human ideas upside down. He keeps saying: You still don't get it. Let me show you.
When they ask him who is the greatest in the Kingdom, Jesus points to the very last person they would have had in their minds, calling a child over as an example to them (and to us). We must become like trusting children who know they are loved, who rely on their Father for everything, respond promptly when called, and expect to be protected because they can do nothing on their own! This is what it should be like to walk with Jesus in His Kingdom.
The humblest are the greatest in this Kingdom, because they have not put any of their own ego, desires, belongings, resources, abilities, social pretenses, or achievements in the way of what GOD wants to do in them. We are all called into the Kingdom, we do not enter it by our own initiative. We cannot take one step forward without God's grace and support. And we certainly cannot get into Heaven by our own efforts. We must be saved, and being saved demands malleability, gentleness of character, profound loving trust, spontaneous obedience, and availability to whatever God is asking of us in the moment.
The disciples were wondering in one moment about rank and authority, but in the next moment Jesus is showing them that unless they reject that whole mentality – unless they reject all self-reliance, self-promotion, self-assertion, self-protection, and self-love – they can't even get IN to the Kingdom, much less earn some kind of "rank" in it. Only the anawim – the poor in spirit, the little ones – are free enough to pass through the eye of the needle. Only those who become humble like Mary understand that He casts down the mighty from their (self-appointed) thrones and sends the rich away empty; it is in bowing low that we are lifted up, because they rely wholly on Him.
---
"¿Quién es el mejor?" ¿Quién es el más rico? ¿Quién es el más rápido? ¿Quién es el más delgado? ¿Quién tiene más seguidores? ¿Quién es el más hermoso? ¿Quién tiene más "likes" en las redes sociales? ¿Quien es el mejor?
Estas son preguntas muy humanas, en las que el mundo trata de mantenernos enfocados: ser mejores, más fuertes, más ricos, más felices, más atractivos, MÁS TODO, MEJOR. Y Jesús está repetidamente volteando estas ideas mundanas, al igual que volcó las mesas de los cambistas. Él sigue diciendo: LO TIENES TODO MAL. LO TIENES TODO AL REVÉS. MÍRAME.
Los discípulos todavía están tratando de entender las realidades del Reino que Jesús vino a establecer, pero todavía lo miran a través de lentes muy humanos. Todavía están analizando qué significa "mejor" en términos humanos, haciendo comparaciones con los líderes de los reinos humanos. Y Jesús sigue poniendo patas arriba sus ideas humanas. Sigue diciendo: todavía no lo entiendes. Déjame enseñarte.
Cuando le preguntan quién es el mejor en el Reino, Jesús señala a la última persona que habrían tenido en mente, llamando a un niño como ejemplo para ellos (y para nosotros). ¡Debemos volvernos como niños confiados que se saben amados, que confían en su Padre para todo, responden con prontitud cuando los llaman y esperan ser protegidos porque no pueden hacer nada por sí mismos! Así debería ser caminar con Jesús en Su Reino.
Los más humildes son los mejores en este Reino, porque no han puesto nada de su propio ego, deseos, pertenencias, recursos, habilidades, pretensiones sociales o logros en el camino de lo que DIOS quiere hacer en ellos. Todos estamos llamados al Reino, no entramos por nuestra propia iniciativa. No podemos dar un paso adelante sin la gracia y el apoyo de Dios. Y ciertamente no podemos entrar al Cielo por nuestros propios esfuerzos. Tenemos que ser salvados, y ser salvado exige maleabilidad, mansedumbre de carácter, profunda confianza amorosa, obediencia espontánea y disponibilidad para lo que Dios nos pida en el momento.
Los discípulos se preguntaban en un momento acerca del rango y la autoridad, pero al momento siguiente Jesús les está mostrando que a menos que rechacen toda esa mentalidad, a menos que rechacen toda autosuficiencia, autopromoción, autoafirmación, autoprotección y amor propio – ni siquiera pueden entrar en el Reino, y mucho menos ganar algún tipo de "rango" en él. Sólo los anawim, los pobres de espíritu, los pequeños, son suficientemente libres para pasar por el ojo de la aguja. Sólo quien se vuelve humilde como María comprende que Él derriba a los poderosos de sus (autopropuestos) tronos y despide vacíos a los ricos; es al agacharnos que nos levantamos, al confiarnos totalmente en él.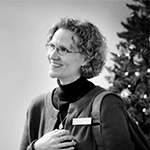 Kathryn Mulderink, MA, is married to Robert, Station Manager for Holy Family Radio. Together they have seven children (including Father Rob), and four grandchildren. She is President of the local community of Secular Discalced Carmelites and has published five books and many articles. Over the last 30 years, she has worked as a teacher, headmistress, catechist, Pastoral Associate, and DRE, and as a writer and voice talent for Catholic Radio. Currently, she serves the Church by writing and speaking, and by collaborating with various parishes and to lead others to encounter Christ and engage their faith. Her website is www.KathrynTherese.com
Feature Image Credit: www.pexels.com/photo/battle-black-blur-board-game-260024/