Every year when the Feast of the Transfiguration comes around, I wonder "What were Peter, John, and James thinking?" As they climbed the mountain with Jesus were they thinking about the beauty they would encounter at the peak? Were they complaining about blisters forming on their feet? Were they thinking about how sore their muscles would be the next morning? Whatever they were thinking, my guess is that even in their wildest thoughts they did not imagine they would encounter Jesus conversing with Moses and Elijah. 
With the Transfiguration, Jesus gives Peter, John, and James a glimpse at what they will experience in Heaven. Peter recognizes what Jesus is showing them and when they see Jesus in His glory Peter says, "Master, it is good that we are here". 
"Master, it is good that we are here."
What a humbling statement. Imagine how our perspectives on our circumstances and on life in general could change if our constant prayer were "Master, it is good that we are here." It's easy to find God in positive circumstances: when we hear good news, when we visit a beautiful place, when we run into an old friend. But do we seek the Lord in the midst of difficult circumstances? Do we try to see how "it is good that we are here" when it's not so obvious? The image of the transfigured Lord gives us something to look forward to. He reveals His glory to Peter, John, and James so they can bear witness to others about the good that comes with acknowledging Christ as the Son of God. Jesus calls us to testify to His glory in the same way the disciples did. 
May we open our hearts and minds to whatever God is calling us to and put our trust in God so we can say with confidence "Master, it is good that we are here".
---
Cada año, cuando llega la Fiesta de la Transfiguración, me pregunto: "¿Qué estaban pensando Pedro, Juan y Santiago?" Mientras subían la montaña con Jesús, ¿estaban pensando en la belleza que encontrarían en la cima? ¿Se quejaban de que se les formaban ampollas en los pies? ¿Estaban pensando en el dolor que sintirían en los músculos el día siguiente? Independientemente de lo que estuvieran pensando, mi suposición es que incluso en sus pensamientos más locos no imaginaron que se encontrarían con Jesús conversando con Moisés y Elías.
Durante la Transfiguración, Jesús les da a Pedro, Juan y Santiago un vistazo de lo que experimentarán en el Cielo. Pedro reconoce lo que Jesús les está mostrando y cuando ven a Jesús en su gloria Pedro dice: "Maestro, ¡qué a gusto estamos aquí!"
"Maestro, ¡qué a gusto estamos aquí!"
Qué declaración tan humilde. Imagínese cómo podrían cambiar nuestras perspectivas sobre nuestras circunstancias y sobre la vida en general si nuestra oración constante fuera "Maestro, ¡qué a gusto estamos aquí!" Es fácil encontrar a Dios en circunstancias positivas: cuando escuchamos buenas noticias, cuando visitamos un lugar hermoso, cuando nos encontramos con un amigo después de mucho tiempo. Pero, ¿buscamos al Señor en medio de circunstancias difíciles? ¿Tratamos de ver cómo "¡qué a gusto estamos aquí!" cuando no es tan obvio? La imagen del Señor transfigurado nos da algo que esperar. Él revela Su gloria a Pedro, Juan y Santiago para que puedan dar testimonio a otros sobre el bien que viene al reconocer a Cristo como el Hijo de Dios. Jesús nos llama a dar testimonio de Su gloria de la misma manera que lo hicieron los discípulos.
Que abramos nuestros corazones y mentes a lo que Dios nos está llamando y pongamos nuestra confianza en Dios para que podamos decir con confianza "Maestro, ¡qué a gusto estamos aquí!"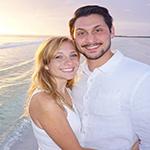 Dakota lives in Denver, CO with her husband, Ralph, and their two sons, Alfie & Theophilus. She is the Dean of Enrollment Management for Bishop Machebeuf High School where her husband also teaches. You can find Dakota at the zoo or a brewery with her family or with her nose in a book at home. For more of Dakota's writing check out https://dakotaleonard16.blogspot.com/
Feature Image Credit: Rita Laura, www.cathopic.com/photo/7546-atras-nubes-siempre-esta-sol