In all three of today's readings there is a message that, despite the many struggles we may face in our Earthly lives, the Lord is greater than any of our missteps and can intercede on our behalf. 
God is forever steadfast. His love and mercy far surpass any human action. In Jeremiah 30 and Psalm 102, there is hope and reassurance for those exiled in Babylon. God reassures His people that Israel and Judah will once again be restored with laughter and glory. He promises that in the end Christ will be victorious, rebuilding Zion and acting as a source of hope for all people. 
Christ will later declare "Take courage, it is I; do not be afraid." This is repeated over and over again throughout the Gospels. In today's example, Peter on the rough seas represents the Church, being called to believe in His power to be able to act just as Jesus does, to walk on water. With the Lord's aid, we can do anything.
---
En las tres lecturas de hoy hay un mensaje de que, a pesar de las muchas luchas que podemos enfrentar en nuestra vida terrenal, el Señor es más grande que cualquiera de nuestros errores y puede interceder por nosotros.
Dios es siempre firme. Su amor y misericordia superan con abundancia a cualquier acción humana. En Jeremías 30 y el Salmo 102 hay esperanza y tranquilidad para los exiliados en Babilonia. Dios asegura a Su pueblo que Israel y Judá serán nuevamente restaurados con alegría y gloria. Él promete que al final Cristo será victorioso, reconstruirá a Sión y actuará como fuente de esperanza para todas las personas.
Cristo declarará más tarde: "Tranquilícense y no teman. Soy yo." Esto se repite una y otra vez a lo largo de los Evangelios. En el ejemplo de hoy, Pedro en el mar tumultuoso representa a la Iglesia, siendo llamada a creer en Su poder para poder actuar como lo hace Jesús, para caminar sobre las aguas. Con la ayuda del Señor, podemos hacer cualquier cosa.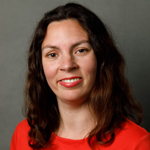 Dr. Alexis Dallara-Marsh is a board-certified neurologist who practices in Bergen County, NJ. She is a wife to her best friend, Akeem, and a mother of two little ones on Earth and two others in heaven above.
Feature Image Credit: Dimitri Conejo Sanz, www.cathopic.com/photo/3056-amaneceres-paisajes-transmiten-calma