To the words that begin our first reading at Mass today… "Vanity of vanities, says Qoheleth, vanity of vanities!  All things are vanity!" …let us add these words of St. John of the Cross: "To be perfectly united to God by love and will, the soul must first be cleansed of all appetites of the will, even the smallest" (Ascent of Mount Carmel). 
In the language of St John of the Cross, the word "appetites" refers to disordered inclinations or affections for oneself or creatures, we could say the "vanities of the world," tendencies which are more or less contrary to God's will. 
In talking about the value of Ignatian Spirituality for leadership in his book Heroic Leadership, Chris Lowney talks about his being driven by the "I-want-it-so-badly" virus, a type of a modern formulation of the "vanity of vanities" of Qoheleth. Lowney shares how he so wanted to get to the top of the company, to be wealthy, recognized, have the best house and the most exciting life. He wanted it so badly that it seemed it must be right precisely because he wanted it so badly. 
Sound familiar? 
How subtle are the deceptions of the evil one. This absolute certainty that God is on our side might be a delusion. Often it is one of the signs that we are after things that fall under the category of "vanity of vanities." Maybe it is not God's design for us that we have the things we so badly desire, but only an "ego itch" actually leading us astray as we chase after our vanities and vainglory. "Disordered inclinations and affections for oneself or creatures." 
In the second reading today, St. Paul in his letter to the Colossians teaches us simply, clearly, leaving us no wiggle room to justify collecting our vanities here on earth: "Brothers and sisters:
If you were raised with Christ, seek what is above, where Christ is seated at the right hand of God. Think of what is above, not of what is on earth."
And lest we think that these words are some fantasy or imaginative contemplation of Christ in heaven, Paul clearly lays out in no-nonsense and practical terms what this means for us here on earth: "Put to death, then, the parts of you that are earthly: immorality, impurity, passion, evil desire, and the greed that is idolatry. Stop lying to one another, since you have taken off the old self with its practices and have put on the new self, which is being renewed, for knowledge,
in the image of its creator."
So, brothers and sisters, cherish these words today, these words of God who is longing for your heart, "put on the new self." Indeed, my friends, God says to us all, "If today you hear [my] voice, harden not your hearts."
---
Nuestra Primera Lectura de la Misa de hoy empieza con: "Vanidad de vanidades, dice Qohelet, vanidad de vanidades! ¡Todas las cosas son vanidad!" y a estas palabras añadamos las de San Juan de la Cruz: "Para estar perfectamente unida a Dios por el amor y la voluntad, el alma debe primero estar limpia de todos los apetitos de la voluntad, incluso los más pequeños" (Subida al Monte Carmelo).
En el lenguaje de San Juan de la Cruz, la palabra "apetitos" se refiere a las inclinaciones o afectos desordenados hacia uno mismo o hacia las criaturas, podríamos decir las "vanidades del mundo", tendencias más o menos contrarias a la voluntad de Dios.
Al hablar sobre el valor de la espiritualidad ignaciana acerca del liderazgo en su libro Heroic Leadership (Liderazgo Heroico), Chris Lowney habla de que lo impulsa el virus "Lo quiero tanto", un tipo de formulación moderna del "vanidad de vanidades" de Qohelet. Lowney comparte cómo deseaba tanto llegar al puesto más alto de la empresa, ser rico, reconocido, tener la mejor casa y la vida más emocionante. Lo deseaba tanto que parecía que debía estar bien precisamente porque lo deseaba tanto.
¿Suena familiar?
Cuán sutiles son los engaños del maligno. Esta certeza absoluta de que Dios está de nuestro lado puede ser una ilusión. A menudo es una de las señales de que buscamos cosas que entran en la categoría de "vanidad de vanidades". Tal vez no sea el diseño de Dios para nosotros que tengamos las cosas que tanto deseamos, sino solo una "comezón del ego" que en realidad nos lleva por mal camino mientras perseguimos nuestras vanidades y vanagloria. "Inclinaciones y afectos desordenados hacia uno mismo o hacia las criaturas".
En la Segunda Lectura de hoy, San Pablo en su carta a los Colosenses nos enseña de manera sencilla, clara, y sin dejarnos margen de maniobra para justificar recoger nuestras vanidades aquí en la tierra: "Hermanos y hermanas: Si han resucitado con Cristo, busquen lo de arriba, donde está Cristo sentado a la diestra de Dios. Piensen en lo de arriba, no en lo de la tierra".
Y para que no pensemos que estas palabras son una fantasía o una contemplación imaginativa de Cristo en el cielo, Pablo expone claramente en términos prácticos y serios lo que esto significa para nosotros aquí en la tierra: "Hagan morir, pues, las partes de usted que son terrenales: la inmoralidad, la impureza, las pasiones, los malos deseos y la codicia que es idolatría. Dejen de mentirse unos a otros, ya que se hayan despojado del viejo hombre con sus prácticas y se han revestido del nuevo hombre, que se va renovando, para el conocimiento,a la imagen de su creador."
Entonces, hermanos y hermanas, atesoren estas palabras hoy, estas palabras de Dios que anhela tu corazón, "vestíos del nuevo yo". De hecho, mis amigos, Dios nos dice a todos: "Si hoy escuchan [mi] voz, no endurezcan su corazón".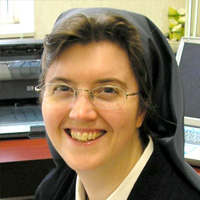 Kathryn James Hermes, FSP, is the author of the newly released title: Reclaim Regret: How God Heals Life's Disappointments, by Pauline Books and Media. An author and spiritual mentor, she offers spiritual accompaniment for the contemporary Christian's journey towards spiritual growth and inner healing. She is the director of My Sisters, where people can find spiritual accompaniment from the Daughters of St. Paul on their journey. Website: www.touchingthesunrise.com Public Facebook Group: https://www.facebook.com/groups/srkathrynhermes/ For monthly spiritual journaling guides, weekly podcasts and over 50 conferences and retreat programs join my Patreon community: https://www.patreon.com/srkathryn.
Feature Image Credit: Fototech, pixabay.com/photos/woman-sky-sunlight-arms-open-arms-2667455/