How far back can you remember what your favorite toy was? I can remember still, sleeping in a crib cuddling with my blankie and holding my little stuffed elephant. For some reason I never had a teddy bear. I guess it's human nature wanting to cuddle up with something. 
I bring this up because Jesus, in today's Gospel talks about the pearl of great price. He uses the example of the pearl to show how someone can become fixated on an object. The object could be anything, like a rare shotgun, or a beautiful ring, or a 1939 Pontiac or a Rolex and on and on. Having those things is not a bad thing, it's just how we think about them. Are they our pearl of great price?
Have you ever heard of the parenting style "Love and Logic"? I learned it in the 90's when our youngest was 14. Love and logic does not have punishments. It has consequences. I think they used that word so it doesn't sound so bad. If your parenting skills are not quite as they should be, look up Love and Logic. It might just change your family life! There are classes and books that will put you on track. 
The beauty of this parenting style is that you are not the bad guy. The child is allowed to discern whether to do this or to do that. You decide what the consequences are and design it so that whatever they choose, is still pleasing to the parent. For instance, you sit down with the child and explain to them, if you don't do what Mommy or Daddy ask you to do there will be a consequence. The consequence is based on withholding something that they hold dear. Warning. If your child does not hold anything dear, it's going to be a difficult process. 
Ten or so years ago one of my grandsons was the receiver of this new parenting style. At that moment in his life he thought Thomas the train was the best thing ever. His mother picked up on that and used the withdrawal of Thomas as his consequence. I never heard much about how that was going. Except, I walked in the back door one day and there was my grandson staring up at Thomas the train which was set-up on the top of the refrigerator. He didn't move, he just stood there and stared at it. I could hardly keep from chuckling. I knew his mother had picked the right consequence.
So what does this have to do with the Pearl of great price? Jesus is trying to tell us that we are to love nothing above him. If I were to ask you, "Do you love Jesus"? You would probably say yes. And so would I. But if they heard you or I talking about something that we really would like to have, then sometime later, purchased it, especially if it was kind of pricey, what would you think?
Jesus wants to be the "Pearl". He wants us to seek him and love him and to adore him. Is that so difficult? The gifts that he gives us at times are beyond our understanding. At times we see those gifts less and less. Why? Does he move away from us? Wait! That is not what happens. We move away from Him. We are in a battle today to keep our faith. The world is so full of darkness, it wants to rip faith away from us. Many stayed home during the COVID pandemic and watched Church streaming on TV. The problem is many are still watching it on TV. If that is what you need to do, that's fine. But those who are able to get to church, should go to church. Searching for that Pearl of great price (Jesus) is not so difficult. No matter how long we've been away, He is there waiting for us. Waiting to forgive us and bringing his marvelous light into our hearts.
Serving With Joy!
---
¿Cuánto tiempo atrás puedes recordar cuál era tu juguete favorito? Todavía me acuerdo durmiendo en una cuna acurrucada con mi frazada y sosteniendo mi pequeño elefante de peluche. Por alguna razón nunca tuve un osito de peluche. Supongo que es la naturaleza humana querer acurrucarse con algo.
Mencione esto porque Jesús, en el Evangelio de hoy, habla de la perla de gran precio. Utiliza el ejemplo de la perla para mostrar cómo alguien puede obsesionarse con un objeto. El objeto podría ser cualquier cosa, como una escopeta rara, un hermoso anillo, un Pontiac del año 1939 o un Rolex, etc. Tener esas cosas no es algo malo, pero ¿cómo pensamos de ellas? ¿Son nuestra perla de gran precio?
¿Alguna vez has oído hablar del estilo de crianza "Love and Logic" (El Amor y la Lógica)? Lo aprendí en los años 90 cuando mi hijo menor tenía 14 años. El amor y la lógica no tiene castigos. Tiene consecuencias. Creo que usaron esa palabra para que no suene tan mal. Si sus habilidades de crianza no son como deberían ser, busque "Love and Logic". ¡Podría cambiar su vida familiar! Hay clases y libros para encaminarte.
La belleza de este estilo de crianza es que tú no eres el malo. Al niño se le permite discernir si hacer esto o aquello. Usted decide cuáles son las consecuencias y lo diseña para que, sea lo que sea que elijan, siga siendo agradable para los padres. Por ejemplo, te sientas con el niño y le explicas que si no haces lo que mamá o papá te piden, habrá una consecuencia. La consecuencia se basa en retener algo que aprecian. Advertencia. Si su hijo no tiene nada querido, será un proceso difícil.
Hace más o menos diez años, uno de mis nietos fue el receptor de este nuevo estilo de crianza. En ese momento de su vida, pensó que Thomas el tren, era la mejor cosa del mundo. Su mamá se dio cuenta de eso y usó la retirada de Thomas como su consecuencia. Nunca escuché mucho acerca de cómo le iba, pero un día entré por la puerta trasera de su casa y allí estaba mi nieto mirando a Thomas el tren que estaba instalado en la parte superior del refrigerador. No se movió, solo se quedó allí y lo miró. Apenas pude evitar reírme. Sabía que su mamá había elegido la consecuencia correcta.
Entonces, ¿qué tiene esto que ver con la perla de gran precio? Jesús está tratando de decirnos que no debemos amar nada más que a él. Si te preguntaran: "¿Amas a Jesús?" Probablemente dirías que sí. Y yo también. Pero si escuchan a ti o a mí hablando de algo que realmente nos gustaría tener, y luego lo compramos, especialmente si es un poco caro, ¿qué pensarías?
Jesús quiere ser la "Perla". Él quiere que lo busquemos y lo amemos y lo adoremos. ¿Es tan difícil? Los dones que nos da a veces están más allá de nuestra comprensión. A veces vemos esos dones cada vez menos. ¿Por qué? ¿Dios se aleja de nosotros? Eso no es lo que sucede. Nosostros nos alejamos de Él. Estamos en una batalla hoy para mantener nuestra fe. El mundo está tan lleno de oscuridad que quiere arrancarnos la fe. Muchos se quedaron en casa durante la pandemia de COVID y vieron la transmisión de la Iglesia en la televisión. El problema es que muchos todavía lo están viendo en la televisión. Si eso es lo que necesitas hacer, está bien. Pero aquellos que pueden ir a la iglesia, deben ir a la iglesia. Buscar esa Perla de gran precio (Jesús) no es tan difícil. No importa cuánto tiempo hayamos estado fuera, Él está allí esperándonos, esperando perdonarnos y trayendo su maravillosa luz a nuestros corazones.
¡Sirviendo con alegría!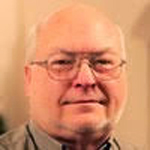 Deacon Dan Schneider is a retired general manager of industrial distributors. He and his wife Vicki have been married for over 50 years. They are the parents of eight children and thirty grandchildren. He has a degree in Family Life Education from Spring Arbor University. He was ordained a Permanent Deacon in 2002.  He has a passion for working with engaged and married couples and his main ministry has been preparing couples for marriage.
Featured Image Credit: Dagmara Dombrovska, unsplash.com/photos/zDKYfgy4G9k