In the Gospel reading today, we are given clarity to the parable of the wheat and weeds in the field. Jesus shares that the Children of God are the good seed. The weeds are the children of the Evil One, and the Gospel goes on to say: "The harvest is the end of the age, and the harvesters are angels. Just as weeds are collected and burned up with fire, So will it be at the end of the age. The Son of Man will send his angels, and they will collect out of his Kingdom all who cause others to sin and all evildoers…Then the righteous will shine like the sun in the Kingdom of their Father. Whoever has ears ought to hear."
We are asked to allow our faith to shine in the midst of the weeds and darkness of our age. Jesus came and established a heavenly Kingdom on earth. His Kingdom lasts forever, and all are invited to His kingdom. It is constantly growing, in spite of the weeds, until the end of time. 
God has chosen for us to be the light in this world, to co-exist among those who seek to spread evil, hate, and lies, the children of the evil one. Evil is a reality here on earth, but we are asked to rise above sin and seek holiness. 
The last line is essential for all of us to understand, "Whoever has ears ought to hear". It is easy for us to drown out the Lord with the sounds of the culture. Just pause for a minute and reflect on how noisy this culture can be, luring us into sin and even attempting to dilute our faith. Rarely, are Christian values and authentic faith affirmed by this culture. Instead, more and more we are criticized for practicing our Catholic faith. But our focus needs to be on the light of Christ and showing the love of the Father through our good deeds.
Today we celebrate the feast day of Sts. Joachim and St. Anne, the parents of the Blessed Virgin Mary. They are beautiful examples of the importance of holy parents as they protected and helped to form the Blessed Mother. They are considered to be holy parents and the patron saints of all grandparents.
As parents and grandparents, our responsibility is to pass down to the younger generation our love of Christ and our Catholic beliefs. This is the most important legacy we can give them – to let our faith shine. We can not assume that our loved ones have received this great gift of faith, so do not hesitate to share the love of Christ from your heart with them. 
---
En la lectura del Evangelio de hoy, se nos aclara la parábola del trigo y la cizaña en el campo. Jesús comparte que los Hijos de Dios son la buena semilla. La cizaña son los hijos del Maligno, y el Evangelio continúa diciendo: "El tiempo de la cosecha es el fin del mundo, y los segadores son los ángeles. Y así como recogen la cizaña y la queman en el fuego, así sucederá al fin del mundo: el Hijo del hombre enviará a sus ángeles para que arranquen de su Reino a todos los que inducen a otros al pecado y a todos los malvados, y los arrojen en el horno encendido. Allí será el llanto y la desesperación. Entonces los justos brillarán como el sol en el Reino de su Padre. El que tenga oídos, que oiga''.
Se nos pide que permitamos que nuestra fe brille en medio de la maleza y la oscuridad de nuestros tiempos. Jesús vino y estableció un Reino celestial en la tierra. Su Reino dura para siempre, y todos están invitados a Su reino. Está en constante crecimiento, a pesar de las malas hierbas, hasta el final de los tiempos.
Dios nos ha elegido para que seamos la luz en este mundo, para coexistir entre los que buscan sembrar el mal, el odio y la mentira, los hijos del maligno. El mal es una realidad aquí en la tierra, pero se nos pide que nos elevemos por encima del pecado y busquemos la santidad.
La última línea es esencial para que todos la entendamos: "El que tenga oídos, que oiga". Es fácil para nosotros ahogar al Señor con los sonidos de la cultura. Solo haga una pausa por un minuto y reflexione sobre cuán ruidosa puede ser esta cultura, atrayéndonos al pecado e incluso intentando diluir nuestra fe. Rara vez, los valores cristianos y la fe auténtica son afirmados por esta cultura. En cambio, cada vez somos más criticados por practicar nuestra fe católica. Pero nuestro enfoque debe estar en la luz de Cristo y mostrar el amor del Padre a través de nuestras buenas obras.
Hoy celebramos la fiesta de los Santos Joaquín y Santa Ana, los padres de la Santísima Virgen María. Son hermosos ejemplos de la importancia de los santos padres que protegieron y ayudaron a formar a la Santísima Madre. Se les considera padres santos y santos patronos de todos los abuelos.
Como padres y abuelos, nuestra responsabilidad es transmitir a la generación más joven nuestro amor por Cristo y nuestras creencias católicas. Este es el legado más importante que podemos darles: dejar brillar nuestra fe. No podemos tomar por hecho que nuestros seres queridos han recibido este gran don de la fe, así que no dudes en compartir con ellos el amor de Cristo desde tu corazón.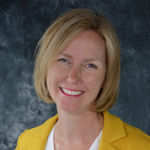 Emily Jaminet is a Catholic author, speaker, radio personality, wife, and mother of seven children. She earned a bachelor's degree in mental health and human services from the Franciscan University of Steubenville.  She is the co-founder of www.inspirethefaith.com and the Executive Director of The Sacred Heart Enthronement Network www.WelcomeHisHeart.com. She has co-authored several Catholic books and her next one, Secrets of the Sacred Heart: Claiming Jesus' Twelve Promises in Your Life, comes out in Oct. 2020. Emily serves on the board of the Columbus Catholic Women's Conference, contributes to Relevant Radio and Catholic Mom.com.
Feature Image Credit: cathopic_1493106530543225.jpg