Do you ever feel like there is a general state of discontent in your household? One kid is  complaining about every little thing, the other doesn't want to do his school work, the other has decided that copying every word that comes out of our mouths is funny, and they are all begging for new toys and video games that are not in our budget. 
I have tried getting them outside to get some Vitamin D and a change of attitude and they complain about that too. "I used to spend all day outside when I was kid!" I tell them, to no avail. I wonder why I was so excited to move to a house with a big fenced-in backyard when they don't even want to step foot outside the door. 
At moments like these I recall something my brother mentioned telling his kids when they got whiny: "You don't suffer enough." And perhaps it's true. Perhaps they can do without the individualized meals, the 50 stuffed animals, the weekly ice cream cone and the abundant hours of screen time. They are used to getting what they want and could use yet another lesson about sacrifice. 
In today's Gospel Jesus states: "I am the true vine, and my Father is the vine grower. He takes away every branch in me that does not bear fruit, and everyone that does he prunes so that it bears more fruit." Our Father prunes and refines us, just as we seek to prune and refine our children by teaching and directing them. Because in the end, we all could use a little pruning and we all could stand to sacrifice just a tad more. 
There is so much beauty in this process. When we allow ourselves to be pruned and adhere to the true vine, we will bear much fruit. "Remain in me, as I remain in you… If you remain in me and my words remain in you, ask for whatever you want and it will be done for you." 
What an incredible promise! That is enough to turn any frown upside down! Remaining in Christ is not easy. It requires a continual focus and a periodic pruning, but when we do, Christ promises to be with us and respond to our every request!

Maybe I am not so different from my kids after all. Maybe I want certain things just as much as they do and get grumpy when I don't get them. Maybe I don't suffer enough either. Join me in remaining in Christ today so that we may bear much fruit and watch His many blessings unfold.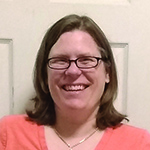 Tami Urcia grew up in Western Michigan, a middle child in a large Catholic family. She spent early young adulthood as a missionary in Mexico, studying theology and philosophy, then worked and traveled extensively before finishing her Bachelor's Degree in Western Kentucky. She loves tackling projects, finding fun ways to keep her little ones occupied, quiet conversation with the hubby and finding unique ways to love. She works at for Christian Healthcare Centers, is a guest blogger on CatholicMom.com and BlessedIsShe.net, runs her own blog at https://togetherandalways.wordpress.com and has been doing Spanish translations on the side for over 20 years.
Feature Image Credit: Sven Wilhelm, https://unsplash.com/photos/2cRXSWyMHA8