"Do not be afraid; just have faith." Where in your life is Jesus speaking that to you? With this freedom from fear, let's take a look at today's readings. The main theme today is feeling a parent's heartbreak over their child. Regardless of where you personally stand in that scenario, parent or child, these stories are relevant to us all. We have the opportunity to open our hearts and see our lives reflected in these stories. But before we continue, I think it is important to address why we might put ourselves in them. In the book of Revelations, we hear that "the Testimony of Jesus is the Spirit of prophecy" (Rev 19:10).  What does that mean for you and me? In short, this testimony of what Jesus did in their lives breathes prophetic truth into our lives, into my life. In fact, that is why our Scriptures are, "alive and active" (Hebrews 4:12) as the Holy Spirit connects our lives to the story of salvation, God stirs faith in our hearts that He can do in my life what He did then. I encourage you to read on with the simple truth that Jesus loved these people, healed these people, and this is their testimony. He did it for them, so He can do it for you and me. 
The First Reading is the end of a tragic story in the later years of David. We know this because of two main reasons: his son is old enough to have started a revolt against him, and his army has asked him not to fight. This part of the story has always brought me to tears. Every time that I read, "He said as he wept, "My son Absalom!  My son, my son Absalom! If only I had died instead of you, Absalom, my son, my son!" I hear the heart cry of my heavenly Father over me for the times I chose fear, sin, and rebellion. 
The Gospel opens with a man begging Jesus to heal his daughter and shortly after, we hear that his daughter is not just sick but dead. This makes healing problematic, it's one thing to heal disease, but another to bring someone back from the dead. But how does Jesus respond, "Do not be afraid; just have faith." A woman who had suffered for twelve years with hemorrhages came onto the scene. But she should not have. Her culture, and in fact her religion, forbid her from being near or making contact with healthy people since she was bleeding and that made her unclean, it made her isolated. Yet she had the courage to say, "if I but touch his clothes, I shall be cured." She had that faith even after twelve years of isolation and suffering. She wasn't just cured and remained hidden from Jesus, she was recognized and known. She was publicly brought back into the community and called 'daughter' by God.
But do not worry, Jesus did not say, 'I used my one miracle for today, that's all you people get.' He traveled on to Jairus's house, the man whose daughter had just died. We get to see a stark contrast between the woman who was named daughter and the family that ridicules Jesus. But He did not give up but rather sent them away. They lost their chance to witness the girl being brought back to life. It makes me wonder, how many times have I been filled with doubt and was not allowed to witness a miracle happen in my life.
I want to leave you with one last thought on these readings: God shows that He knows and walks with us in our pain and He wants to bless us. He wants to reaffirm that we are His children, even when we rebel, even when we are the outcast. May Jesus bless you!
Featured Image Credit: pelau, https://www.cathopic.com/photo/4472-solo-tocando-manto-sere-sanada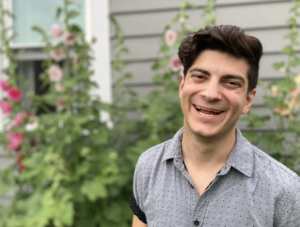 Arthur Richardson is married to his wonderful wife, Gabby Richardson. They will be married for two years this January! Most of his work experience is in ministry. He was a retreat missionary in Wisconsin for two years and a youth minister for three years. He is now the Web Project Manager here at Diocesan, and loves it!