"For in hope we are saved" (Rom 8:24).
In today's First Reading, we are reminded that "this, too, shall pass" and what we are truly working towards is the Kingdom of God. The reading is about the Glory of God, the "eager expectation" we should have.  The reading is about hope. 
Sadly, we live in a world where it is so easy to lose hope. We see corrupt people rising in the ranks, we see people starving in the streets, and we see our loved ones falling sick. But when we look to the Lord, keep our eyes set upon Him, we can be renewed in this hope.  The book of Romans tells us that hope isn't knowing that something has already happened, but waiting in anticipation and with faith. If we based our hopes for this world on what we see, then hope would be a negative word for a negative world.
Instead, hope is something that inspires us. It reminds us that there is more to dream of, more to live for, more to hope for, because "the sufferings of this present time are as nothing compared to the glory to be revealed to us." 
By living in unity with God, with Jesus, with the Holy Spirit, we know that there is good. Just as my high school youth group would chant, "God is good! All the time! All the time! God is good!"
Glory to you, God, for redemption through your Son,
for the most holy sacrifice of Jesus Christ.
Thank you for the hope you have given us through all your goodness.
Thank you for showing us Your mercy, Your love, and Your glory, even here on earth. 
May we shed tears of joy in hope.
May we dance and sing and cry out in undignified praise,
giving glory to you without worry or pride as King David did. 
May we always hope in you and through you, Lord. Amen.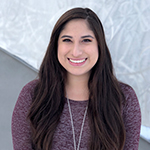 Veronica Alvarado is a born and raised Texan currently living in Pennsylvania. Since graduating from Texas A&M University, Veronica has published various Catholic articles in bulletins, newspapers, e-newsletters, and blogs. She continued sharing her faith after graduation as a web content strategist and digital project manager. Today, she continues this mission in her current role as communications director and project manager for Pentecost Today USA, a Catholic Charismatic Renewal organization in Pittsburgh. 
Feature Image Credit: Hao Pan, https://unsplash.com/photos/GqGsAF1sABU