Did anyone else besides me have to read today's First Reading more than once before it started to click in your mind? I really had to take a deep breath and intentionally clear the thoughts and images from my head because they were obstacles to the Word of the Lord spoken through the writings of St. Paul in his letter to the Romans.

I couldn't focus on God's voice being spoken through the written words in these Bible passages. There are many times throughout my life when I've struggled with 'seeing the face of God' as the Psalm intones today or hearing His voice in my daily life.

There are so many distractions and tasks that can pull my focus from being fruitful for the Lord. When I'm distanced from Him, for whatever length of time, I become similar to the parable about the barren fig tree in the Gospel.  I don't want to be cut down after three years for not bearing good fruit.

I know there have been times my routines and thoughts aren't connected to the Spirit of the life-giving Lord. I am so very thankful that there is no time limit for me to leave the concerns of the flesh and world behind, which take me further from God, and turn back to Him. The fertilizer I need to nurture the Spirit of Life in my heart and thoughts I absorb through the Sacraments, His divinely inspired Words in Scripture and in the living witnesses throughout time in this world.

Today is the memorial of Saint John of Capistrano. There were many challenges in the world during his lifetime. Through courage, diligence and faith, St. John became a reformer of the Church. He is a witness for me of the Spirit being alive in his life.

Please pray with me, asking for St. John's intercession today.

St. John of Capistrano, your love for Christ overcame all obstacles. Help me to cherish God's call and to follow him wherever he might lead. Amen.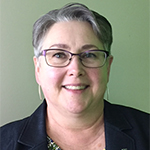 Beth Price is part of the customer care team at Diocesan. She is a Secular Franciscan (OFS) and a practicing spiritual director. Beth shares smiles, prayers, laughter, a listening ear and her heart with all of creation. Reach her here bprice@diocesan.com.
Feature Image Credit: Exe Lobaiza, https://www.cathopic.com/photo/5886-ellas-tienen-felicidad-plena-dios