What a joy and blessing it is to write a reflection for the Memorial of St. John Paul the Great! Today's reflection will be on the optional set of readings for JPII's Memorial.
In the Gospel we hear Christ ask Simon Peter three times if he loves Christ. Each time, Simon Peter responds by saying, "Yes, Lord, you know that I love you". Christ then tells Simon Peter to take care of His flock. In celebration of St. John Paul the Great, I thought I would read some of his writings for inspiration for this reflection. In an address to young people about the meaning of vocation, he said, "Do not be afraid of the radicalness of His demands, because Jesus, who loved us first, is prepared to give Himself to you, as well as asking of you. If He asks much of you, it is because He knows you can give much." This reminded me so much of the Gospel reading. Christ asks Simon Peter three times if he loves Christ, not because He doubts Simon Peter, but as an indication that He will ask much of Simon Peter. He knows that Peter will deny Him. But He also knows that Peter will build up His Church, work for the conversion of souls, and instill hope in those he encounters. Simon Peter knew that his love for Christ would entail a great deal of suffering. He also knew that through suffering Christ would bring about true joy in being united with Him in Heaven. 
The Responsorial Psalm is "Proclaim God's marvelous deeds to all the nations." JPII did exactly that. He was the most travelled pope in history, visiting about 130 countries during his pontificate and about 600 cities outside of Italy. He began the tradition of World Youth Day, reaching millions of youth around the world. In a similar way to St. Peter, St. John Paul the Great brought the world together through the love of Christ. 
St. John Paul the Great, like St. Peter, humbly led the people of God to greater conversion and greater love of Christ. I think JPII was so well loved because he so beautifully radiated the love of Christ. He was able to do so because of his own faith and love of God. He taught us that when we fully love Christ and give our hearts to Him, we are trusting Him to care for us. 
I'd like to end with one of my favorite reminders from Pope John Paul II: "We are not the sum of our weaknesses and failures; we are the sum of the Father's love for us". 
St. John Paul the Great, pray for us!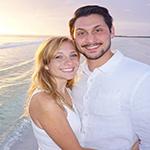 Dakota currently lives in Denver, CO and teaches English Language Development and Spanish to high schoolers. She is married to the love of her life, Ralph. In her spare time, she reads, goes to breweries, and watches baseball. Dakota's favorite saints are St. John Paul II (how could it not be?) and St. José Luis Sánchez del Río. She is passionate about her faith and considers herself blessed at any opportunity to share that faith with others. Check out more of her writing at https://dakotaleonard16.blogspot.com.
Feature Image Credit: Moises Becerra, https://www.cathopic.com/photo/10017-pidiendo-intercesion-san-juan-pablo-ii