Today is my bride and I's fifty-second anniversary! How is that possible? Because of her, we have raised eight children and I just recently baptized our 30th grandchild. What a joy!
Today in the Gospel of Luke he says, "the one who is the least among you all is the one who is the greatest". That scripture doesn't seem to fit in the ways of this world today. I was taught that a successful person was one that made a lot of money. I was "encouraged" to go to college to be a petroleum engineer. After my first semester in an engineering curriculum, I bowed out. Our professor told us that we all would be on a drafting board for at least five years! That did it. I went into secondary education. Somehow after student teaching, I got into the business world.
I got a job working for the branch of a large corporation. They were distributors of hydraulics and pneumatics. My drive to make it was still there with me. At this point in my life my wife and I had two children. I was climbing the corporate ladder and working a lot of hours. One evening I came home and for "some reason" came in the back door. Our two boys were by their mother in the kitchen. I opened the door, and they both went and hid behind their mother. Why? Because, they really didn't know who I was! I went to work before they got up in the morning and came home after they were in bed. I was shocked and it broke my heart. That was the day I burned the corporate ladder! I'm glad there was a child in today's gospel because the behavior of our two boys that day caused me to make a major life change. 
Being the least isn't always easy. It needs love, sacrifice, humility, meekness, etc., and thick skin to say the least. Above all, it needs lots of faith! So, what is the payback? For me, the joys and sorrows of our large family (47) could not be purchased at any price. Oh yes, we had to go without some of the finer things in life, but the Lord has always provided for our needs. I seem to remember reading, "you cannot serve both God and mammon" (money). Sound familiar?
Serving With Joy!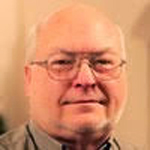 Deacon Dan Schneider is a retired general manager of industrial distributors. He and his wife Vicki have been married for over 50 years. They are the parents of eight children and thirty grandchildren. He has a degree in Family Life Education from Spring Arbor University. He was ordained a Permanent Deacon in 2002.  He has a passion for working with engaged and married couples and his main ministry has been preparing couples for marriage.
Featured Image Credit: Jingming Pan, https://unsplash.com/photos/iYsrkq5qq0Q