Today we read of jealousy and lifting others up in Christ. In the First Reading, the 70 elders begin to prophesy and it was amazing! But when the two elders that WEREN'T there begin to prophesy, Joshua asks Moses to stop them. 
Moses' response is:
Are you jealous for my sake?
Would that all the people of the LORD were prophets!
Would that the LORD might bestow his spirit on them all! (Numbers 11:29)
Something similar occurs in the Gospel reading when the apostles come to Jesus, telling him that there are others that are performing miracles in Jesus' name but they aren't following the disciples.
Jesus replied, "Do not prevent him.
There is no one who performs a mighty deed in my name
who can at the same time speak ill of me.
For whoever is not against us is for us.
Anyone who gives you a cup of water to drink
because you belong to Christ,
amen, I say to you, will surely not lose his reward." (Mark 9:38-43)
In both cases, we are reminded not to be jealous of others' gifts, nor should we be jealous when people are given the same gifts as us. Just because someone may not have come to the same gift, talent, or gift of the Spirit, does not mean that we should say they're wrong or don't deserve it. God's glory is meant for all, not only for those who experience things exactly as we do. It is meant for all people. 
It is so easy to get caught up in our human ways and to want all the powerful glory of the Lord, all the wondrous gifts of the Holy Spirit, all the sacrificial love of Christ, for ourselves but… that kinda defeats the purpose! 
When we are radically in love with and in relationship with Our God, we know that it is something to be shared. So next time you feel that green hue of jealousy begin to take hold, tell yourself: "I'm so excited for that person, and all those they touch in their life, to know you. I can't wait for them to receive the gift of eternal life. Thank you, Lord, for the gift of that person. Thank you for the experience of you through that person."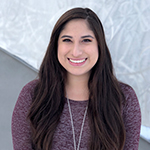 Veronica Alvarado is a born and raised Texan currently living in Pennsylvania. Since graduating from Texas A&M University, Veronica has published various Catholic articles in bulletins, newspapers, e-newsletters, and blogs. She continued sharing her faith after graduation as a web content strategist and digital project manager. Today, she continues this mission in her current role as communications director and project manager for Pentecost Today USA, a Catholic Charismatic Renewal organization in Pittsburgh. 
Feature Image Credit: Ashkan Forouzani, www.unsplash.com