Today is the feast of St. Pius of Pietrelcina better known as Padre Pio. The First Reading from Haggai today is quite fitting as Padre Pio was known for the gift of inspired listening while in the confessional. He had the gift of being able to tell the person receiving the sacrament what he/she omitted from a confession, and called the person out about it.

Here's how I imagine Padre Pio would sum up the First Reading. 'What I hear you saying is, you work, eat and drink, yet nothing gives you fulfilment or satisfaction. Wake up! Clean up your act! Stop going through the motions and really commit to being your true self and do so authentically. When you work, do so sincerely and with your best effort. The intention behind what you do and why, matters. Then when you offer your works to the Lord, God will be pleased with you.  Let your true self come through just like a flower.'

A flower doesn't give any thought to what it is, how it fits in, or what it looks like. It is a flower and God enjoys each and every flower. It is at peace.
I am human. God enjoys each and every part of my authentic self. I do not have to be the best in any way, shape, or form. I just have to try as best I am able in the moment, and to use the God given gifts and the talents I've developed throughout my life. I need to find a way to do those things with good intentions that are not selfish or miserly. I need to live in peace and unity with the kingdom He entrusted to humankind.

Padre Pio wrote, "There is only one thing the soul should regret, and that is offending God."
My actions and thoughts need to be formed with this in mind.

Oh Lord, I want you to take pleasure in all the facets of life. With the help of my Guardian Angel, enlighten and guide me to do your will in every action, thought, deed and prayer. Amen.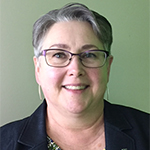 Beth Price is part of the customer care team at Diocesan. She is a Secular Franciscan (OFS) and a practicing spiritual director. Beth shares smiles, prayers, laughter, a listening ear and her heart with all of creation. Reach her here bprice@diocesan.com.
Feature Image Credit: Sarah Loestcher, https://pixabay.com/photos/flora-flower-meadow-spring-nature-2261860/