Even in the time of Jesus there was tension between what was "fair" and what was "just". Usually, today or way back when, a situation is considered "fair" when things are perceived as equal – by you. Everyone has the same number of cookies. Each player gets the same number of turns in the game. In these two examples, the perception of fairness would most likely be shared by all the individuals. They are just as well – each person received what was due to them. 
Justice, what is due to you in order to make right or continue in right relationship, and fairness, being in accordance to the rules and equity, are often used interchangeably. However, as you can see, while they are related terms they do not mean the same things. Our Gospel parable today illustrates how God deals with justice and fairness. 
Jesus tells the parable of the landowner who goes out to hire workers at various times of the day. The landowner tells each worker that he will be paid "what is just." At the end of the day, the workers who worked the least received a full wage. This continues to those who worked the full day. Here's where knowing the definitions would have been helpful. From their perspective, it was not "fair" that they received the same amount. The work to pay ratio was not equal for all parties. 
But the landowner aka God, did not promise what was fair. He promised what was just. God desires for us to be in right relationship with Him. Whether this relationship happens in the early days of our childhood, or in the final moments of our life. God's graces are not better for those who followed His path longer. He does not love them more or less. What's more, God will not stop seeking after us. Like the landowner, God reaches out for us, continually offering us the means to be in right relationship with Him.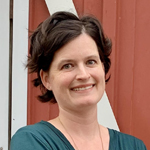 Kate Taliaferro is an Air Force wife and mother. She is blessed to be able to homeschool, bake bread and fold endless piles of laundry. When not planning a school day, writing a blog post or cooking pasta, Kate can be found curled up with a book or working with some kind of fiber craft. Kate blogs at DailyGraces.net.
Feature Image Credit: David Bartus, https://www.pexels.com/photo/green-plant-field-near-house-442116/