Is Jesus asking us to renounce all our worldly goods? Maybe. Jesus suggests the ideal, give up house and family and land for his name. He certainly would like us to be less attached to them in return for the promise of eternal life. Jesus wants us to know the ideal and do our best to live it out. And we live it out in the world, with families and jobs and things we need and use. How do we use our worldly goods? Do we take care of them and keep them in their proper place? For example, when it's time to consider purchasing a new car do you want the latest and greatest model with all the possible upgrades, never considering purchasing an older or used model? 
Or how about that smartphone? Is it traded in every time you can upgrade, or do you use it until it is necessary to purchase a new one?
Let's face it, we live in a world where consumerism can be a way of life and this will not help us get to heaven. St. Ignatius taught frequently about detachment, not only from things but from desiring specific outcomes. In the Spiritual Exercises, he offers these thoughts, "I desire and choose poverty with Christ poor rather than wealth; contempt with Christ laden with it rather than honors. Even further, I desire to be regarded as a useless fool for Christ, who before me was regarded as such, rather than as a wise or prudent person in this world." (Spiritual Exercises #167)
St. Ignatius was not the only saint to suggest we give up the trappings of the world; St. Francis of Assisi, St. Clare, St. Therese of Lisieux, St. Maximillian Kolbe – the list is really endless, since all saints give up themselves for the greater good of the glory of God.
This is the question this Gospel raises in me; am I holding on so tightly to my things, my needs, my desires that I am missing what God wants to give me? Consider that as you go about your day and see what happens. And, if you'd like to chat about it, email me.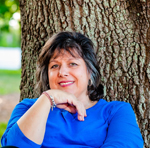 Deanna G. Bartalini, is a Catholic writer, speaker, educator and retreat leader. She is the founder of the LiveNotLukewarm.com community, a place to inform, engage and inspire your Catholic faith through interactive Bible studies, courses and book clubs. Her weekly podcast, NotLukewarmPodcast.com, gives you tips and tools to live out your faith. At DeannaBartalini.com  she writes about whatever is on her mind at the moment.