"This side is done. Turn me over and take a bite." 
My amazing husband is an incredible cook. When he used to compete competitively for BBQ, a picture of St. Lawrence always accompanied us. Lawrence was one of the seven deacons of Rome who was martyred until the persecution by the Roman Emperor Valerian. It is reported that St. Lawrence was put to death on a gridiron and told his torturers, "This side is done. Turn me over and take a bite." 
While the odds of any of us being martyred on a gridiron are pretty low. The need for martyrs is no less and today's Gospel guides us in how to lay down our lives every single day. We may not die a martyr's death, but we can offer up our daily lives. If we choose daily, to die to ourselves, to move beyond our preferences and the things of this world which bring us a sense of comfort and security, our lives will produce much fruit by drawing others to God and the comfort of the Holy Spirit.  
Jesus tells us straight out, that whoever loves his life will lose it. In Corinthians we hear, "Each must do as already determined, without sadness or compulsion, for God loves a cheerful giver." When I offer up my place in line, when I give the driver next to me the right of way, when that parishioner who always sings off key sits behind me at Mass, do I give up my wants and preferences cheerfully? When that one person who drives me nuts at work asks me a favor, do I do it as happily as I would for others? 
"Whoever serves me must follow me, and where I am, there will also my servant be." 
We follow St. Lawrence's example when we offer up all those little irritations and cheerfully say, "Lord, I follow you." 
This side is done, Lord, turn me over and give me another chance to offer myself up to you!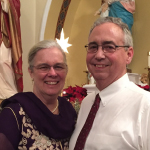 Sheryl O'Connor delights in being the number 1 cheerleader and supporter for her husband, Tom who is a candidate for the Permanent Diaconate in the Diocese of Kalamazoo. They are so grateful for the opportunity to grow together in this process whether it is studying for classes, deepening their prayer life or discovering new ways to serve together. Sheryl's day job is serving her community as the principal for St. Therese Catholic School in Wayland, Michigan. Since every time she thinks she gets life all figured out, she realizes just how far she has to go, St. Rita of Cascia is her go-to Saint for intercession and help. Home includes Brea, a Bernese Mountain dog and Carlyn, a very, very goofy Golden Retriever.
Feature Image Credit: Naassom Azevedo, https://unsplash.com/photos/-2k57MGq4AI