Today's Gospel reading is from Mark and details the Transfiguration of Jesus. As Mark states: "Jesus took Peter, James, and his brother John, and led them up a high mountain apart by themselves. . . .  Then a cloud came, casting a shadow over them; from the cloud came a voice, 'This is my beloved Son. Listen to him.'"
The Apostles were rightly scared. This would have been quite a scene to witness.
But God's command was clear: Listen to Christ. 
And nearly 2,000 years later, this command is still something we must follow. 
Yet we often struggle to abide by it. We know we should listen to Christ. We try. But sometimes it's really difficult. Sometimes the world gets in the way and it's hard to hear Him. Sometimes we allow the things of this world to push Christ's voice aside or to obscure it. And sometimes we just outright refuse to listen. 
When do we refuse? When we don't like what He tells us. When His words are too hard to follow. When we fear being ostracized by coworkers, friends, family, or our communities for adhering to our beliefs. All of the above?
Christ never said that following Him would be easy. And many of us know that it's often very hard. It's hard because listening takes effort. According to merriam-webster.com, listening means "to hear something with thoughtful attention: give consideration." 
Listening is not simply hearing something and dismissing it. Listening requires our attention. It also requires us to think and to open our hearts to Christ. We must allow His words to wash over us, to guide us, and to change us. 
So if we truly listen to God's words, we must also reflect on and adhere to them. We must let His words transform us. And then we must speak them out to the people in our lives and in our communities, for listening and living out the word of God means that we help transform other people as well. 
This is what Christ called His Apostles to do, and it is what He calls us to do as well.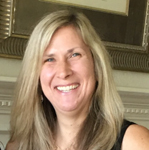 Susan Ciancio has a BA in psychology and a BA in sociology from the University of Notre Dame, with an MA in liberal studies from Indiana University. For the past 17 years, she has worked as a professional editor and writer, editing both fiction and nonfiction books, magazine articles, blogs, educational lessons, professional materials and website content. Eleven of those years have been in the pro-life sector. Currently Susan freelances and writes weekly for HLI, edits for American Life League, and is the editor of Celebrate Life Magazine. She also serves as executive editor for the Culture of Life Studies Program-an educational nonprofit program for K-12 students.
Feature Image Credit: Exe Lobaiza, https://www.cathopic.com/photo/13549-encuentro-con-cristo