Today's Gospel has always really stuck with me…especially the first part (up until "…whatever you loose on earth shall be loosed in Heaven"). I know a big reason for this Gospel sticking with me is that I had to memorize it for one of my high school theology classes. At the time I'm sure I was frustrated that I had to memorize so many words for what felt like no reason. But now thinking about it, I realize how often I refer to this passage in my own personal faith as well as in conversations with others. In reflecting on the two readings for today–the first from Numbers and the Gospel from Matthew, I think I'm coming to understand the passage from Matthew more… I'm sure my high school theology teacher is somewhere saying, "See, Dakota, I told you it wasn't all for nothing!"
In the reading from Numbers, we hear of Moses' disobedience. To be completely honest, it wasn't until someone pointed it out very recently that I understood how exactly Moses disobeyed God in this instance. It's subtle. God's command was to speak to the rock in order for it to produce water. Instead, Moses strikes the rock in order for it to produce water. Although it is subtle, Moses' action makes evident his lack of faith in God's power and God punishes the disobedience by not allowing Moses to enter into the Promised Land with his people. 
In the Gospel we hear Simon Peter's profession of faith: "You are the Christ, the Son of the living God." It is after this profession that Jesus tells Peter that he is the rock upon which the Church will be built. The Church, in her wisdom, pairs the story of God bringing forth water for Moses through a rock and the story of Peter being the rock in order to show us that we can choose a path of disobedience or obedience. It also shows us that God can enact good despite man's sin. Even though Moses did not follow God's command, God still gave the Israelites water. Even though Peter denied Jesus, our Church is founded upon the leadership of Peter. God's will and God's power are not confined by human or earthly limitations. 
Personally, when I'm not putting my full trust in God it's because I'm doubting His power or His will: "How could He possibly make this situation better?" "Why would God want this?" When we fully place our trust in His power, we are able to also submit ourselves to His will. When we do that, we no longer have doubts in why things are happening because we trust that God is enacting His will in our lives. 
May we always have faith in the power of God. May we also look to our Mother Mary as our hope and intercessor because it was her "yes" to God's will that brought about the Incarnation!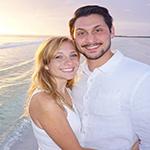 Dakota currently lives in Denver, CO and teaches English Language Development and Spanish to high schoolers. She is married to the love of her life, Ralph. In her spare time, she reads, goes to breweries, and watches baseball. Dakota's favorite saints are St. John Paul II (how could it not be?) and St. José Luis Sánchez del Río. She is passionate about her faith and considers herself blessed at any opportunity to share that faith with others. Check out more of her writing at https://dakotaleonard16.blogspot.com.
Feature Image Credit: Fr. Fernando, https://www.cathopic.com/photo/11872-llaves-reino