"Do not be afraid! Life with Christ is a wonderful adventure. He alone can give full meaning to life, he alone is the center of history. Live by him!" – Pope St. John Paul II
I once tried counting how many times the Bible instructs us to not be afraid, but failed pretty quickly. In our world, there is often trouble, hopelessness, and despair. Today's readings speak of the many storms in our lives. A storm can mean something we see right in front of us, such as the one the disciples saw when Jesus calmed it in the Gospels, or something psychological, such as the sufferings of Job.
In the book of Job, God is silent for the majority of the book and it is up to us to find His presence. We are weak in that we often don't believe until we have the concrete evidence staring us in the face. We are ignorant to doubt God's power. God's ways are so insurmountable that human standards cannot begin to compare to them. 
We owe God unfailing trust. Christ repeatedly instructs us to have no fear. I think for my young children as well as for my much older self, the imagery of Christ calming the storm after peacefully lying asleep while his disciples fret is one of the most recognizable images of who God really is to us. Do we not have faith? If so, why worry? If we belong to Christ, we are no longer of this world, but have eternal life.
Just as it is said in today's Psalm, Give thanks to the Lord, His love is everlasting. And as said by St. Paul, "Let us no longer live for ourselves, but for He who for our sake died and was raised. For in Him, we have eternal life."
Therefore, let us again remember to "Be not afraid".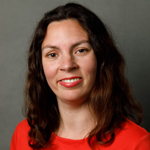 Dr. Alexis Dallara-Marsh is a board-certified neurologist who practices in Bergen County, NJ. She is a wife to her best friend, Akeem, and a mother of two little ones on Earth and two others in heaven above.
Feature Image Credit: Luis Angel Espinosa, https://www.cathopic.com/photo/1435-cruz-una-puesta-sol