In today's Gospel reading, Jesus tells His disciples: "I am the gate. Anyone who enters through me will be safe. . . . I have come so that they may have life and have it to the full."
Yes, Jesus came so that we may have life—life in Him and eternal life. 
But we cannot get through that gate without faithfulness to Him. In this life, we must follow Christ's laws and His words so that we can attain eternal life.
Yet, we are a fallen people, and sometimes our tendency can be to try to find the easy way out, to try to find a backdoor to heaven or maybe to think that gate will be open despite very little effort to amend our lives. We rationalize our bad behaviors and lay the responsibility on God rather than on ourselves by believing that what we do isn't so bad and that God's mercy will save us at the last minute.
But there is no sneaking through. There is no back door. The only way to assure ourselves of eternal life is to do the hard work of following Christ's commands now.
There's no denying that this can be difficult. Standing up for what is right, for what is true, and for what is moral is not always the popular thing. Others may scoff at us. Others may tell us that our faith is pointless and that our beliefs have no place in this world. Even elected leaders pervert our faith and lead people astray.
During these times, we must understand that it is sinfulness that has led us away from the gate. It is a "me first" mentality that has kept us from reaching our full potential. And it is fear that convinces us we should stop trying to attain the sainthood that God calls us to. 
All of these things keep us from picking ourselves up and getting back on the road to Him.
We know that sin breaks His Sacred Heart. We know that each time we stray from the road that leads through the gates of heaven we crush Him. Yet He desires us. He longs for us. And even when we say "no" to Him, He's still willing to say "yes" to us.
But we can only say "no" so many times before our death. That's why we must learn to say "yes."
When we fail, we must get back up. We tell Him we're sorry. We confess. And we try again. 
Christ is always there beckoning. His compassion encourages us. His mercy consoles us. And His love sustains us. 
How can we not say "yes" to Him?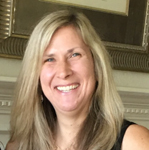 Susan Ciancio has a BA in psychology and a BA in sociology from the University of Notre Dame, with an MA in liberal studies from Indiana University. For the past 17 years, she has worked as a professional editor and writer, editing both fiction and nonfiction books, magazine articles, blogs, educational lessons, professional materials and website content. Eleven of those years have been in the pro-life sector. Currently Susan freelances and writes weekly for HLI, edits for American Life League, and is the editor of Celebrate Life Magazine. She also serves as executive editor for the Culture of Life Studies Program-an educational nonprofit program for K-12 students.
Feature Image Credit: Alexis Joseph, https://www.cathopic.com/photo/15662-este-corazon-arde-amor-vos