In today's reading from the Gospel of Mark, crowds of people surrounded Christ and His disciples. They approached Christ because they heard that He had healed many. They, too, wanted to be healed.
Imagine living during the time of Christ and seeing Him for real—in flesh and blood—hearing stories of the miracles He performed, and knowing in your heart that He could heal you. Imagine being so convinced that you felt compelled to follow Him.
In a sense, the people in Christ's time almost had it easy. They saw His miracles and heard His teachings; they could not deny that He was the Son of God. 
It's harder for us 2,000 years later. We don't get that firsthand account. We don't get to be eyewitnesses. We close our eyes and can only imagine what it must have been like. We rely on stories. We rely on faith.
Wouldn't it be wonderful if, today, crowds of people still chased after Christ because they knew and understood who He really is? Some do. Yet many in our secular society scoff at those who believe. They tell us we're "nuts" or "crazy."  They don't understand. And they certainly don't know Christ like we do.
If they knew Him, they would run after Him as well.
But are we always like that crowd of people in Christ's time? Do we so desperately seek Him that we run after Him no matter what? Or do we cautiously walk, unsure of what we have been taught, unsure of what we believe, and reticent to let the world know our beliefs?
Sometimes, when things get difficult, we may feel that Christ is not with us. But we must remain steadfast in the belief that He is always there. We must take steps to feel closer to Him. We pray unceasingly. We sit with Him in Adoration. We read His words. 
Christ is our light and our hope. In this, we must have faith—a faith that impels us to run toward Him, even in dark times.
We may not be able to tangibly see or touch Him, but we must believe He will never leave us, for He loves us more than we can ever imagine. 
So, the next time you feel like you are all alone, remember that Christ is our constant. He is the one thing we can always count on, no matter what. He is always waiting for us with outstretched arms. 
He may not answer our prayers in the exact way that we want, and He may not take away our physical or mental ailments. But, if we ask, He will give the kind of healing that matters most—a spiritual healing. And that is the only reason we are here on earth.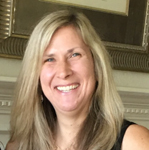 Susan Ciancio has a BA in psychology and a BA in sociology from the University of Notre Dame, with an MA in liberal studies from Indiana University. For the past 17 years, she has worked as a professional editor and writer, editing both fiction and nonfiction books, magazine articles, blogs, educational lessons, professional materials and website content. Eleven of those years have been in the pro-life sector. Currently Susan freelances and writes weekly for HLI, edits for American Life League, and is the editor of Celebrate Life Magazine. She also serves as executive editor for the Culture of Life Studies Program-an educational nonprofit program for K-12 students.
Feature Image Credit: Fernando Pérez Lara, https://www.cathopic.com/photo/17768-jesus-sus-discipulos