The story of The Good Samaritan is referenced widely in religious and secular circles. We all want to be the Samaritan, the one who reaches out and helps. We see the Samaritan as the hero of the story. The role of the Samaritan is indeed critical. Without him, the robbed man would have probably died on the road. However, we shouldn't dismiss the other characters in Jesus' story. In particular, the robbed man and the innkeeper.
As much as the Samaritan offered his assistance, the robbed man had to accept it in order for this scene to work out. He could have curled up, expecting the worse, and turned aside as the Samaritan came down the road. He could have rejected the help since it came from someone considered "unclean." When we are hurt, excluded, or in the depths of pain and sorrow, it can be easy to lash out at those who would help us instead of raising our head and hands to accept what they are offering.
There is also the innkeeper. A few years ago, I read a book by Jane Knuth, a St. Vincent de Paul volunteer, entitled Thrift Store Saints: Meeting Jesus 25⍧ at a Time. In one section, a donor is feeling that she doesn't do enough for the organization, since all she does is give money. She does not dedicate time, doesn't encourage others to come to the store, etc. Jane responds to her:
A careful reading will reveal that it's the innkeeper who actually does the work of taking care of the hapless traveler. The Good Samaritan gives some preliminary help and foots the bill, sure, but the innkeeper is put in charge of the long-term effort.
The parable shows a need for both immediate assistance and a long-term refuge.
As we continue on in this pandemic, I believe it's important to recognize that there are times we fill each one of these rolls. There may come a time when we feel like the robbed man. Circumstances swirl around us and everything is beyond our control. We hurt, we bleed, we cry out for aid.
There may be days we need to be the Good Samaritan. We can reach out to a friend or neighbor who is struggling. We can drop everything to listen when a friend loses a job, or isn't sure how they are going to handle working from home while their children participate in virtual learning.
We may also be called to be the innkeeper. We are in this for the long haul. We may have the opportunity to walk with someone through loss, grief or sorrow. Perhaps we have had to take on caregiving duties for a family member, or find ourselves serving our children's education in a brand new way. The innkeeper is the daily grind, the one who gets up each day to meet the same problems head on.
Jesus continues to reveal truth to us through this parable, even today.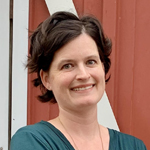 Kate Taliaferro is an Air Force wife and mother. She is blessed to be able to homeschool, bake bread and fold endless piles of laundry. When not planning a school day, writing a blog post or cooking pasta, Kate can be found curled up with a book or working with some kind of fiber craft. Kate blogs at DailyGraces.net.