I'm a worrier. Probably as a typical American, I worry about money a lot. Perhaps many people's goal each day is to make money. How much can one make in how little time.
I also worry about something bad happening a lot. What if a loved one gets hurt or sick? What if I'm given something I just can't handle?
Have you ever wondered just how many times the words "fear" or "anxiety" are found in the Bible? When I recently tried to look, it quickly became too many for me to count.
I realize now that more than anything else that what weakens my relationship with God is my lack of trust in Him. In today's society, we often want to see results immediately. Instant messages, live-time social media feeds, we hold the world in the grips of a quick swipe on our cells or the click of a computer mouse. We tend to concentrate on what's next without recognizing what's already in our midst- God's presence within us.
Today's readings remind us: Have no anxiety at all, but in everything, by prayer and petition, with thanksgiving, make your requests known to God. And, what more was there to do for my vineyard that I had not done?
The Gospel calls us to ask ourselves, why do we turn against His beloved Son through sin? Is it for genuinely evil ways? This is probably not as common as it may be for the underlying anxiety and distrust we often have.
Perhaps more than anything else, we must take refuge in Him knowing His love for the world will surpass all our flaws.
Ultimately it is only by turning to our Father that we will find the peace we so yearn for. Prayer, indulgences, genuine self-care are some ways to cultivate our relationship with the Lord and demonstrate trust in His saving grace.
What can you do today to re-focus your priorities on His guarantees for His people rather than our doubts?
"Let nothing disturb you, nothing frighten you, all things are passing, God is unchanging." – St Teresa of Avila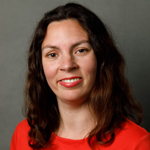 Dr. Alexis Dallara-Marsh is a board-certified neurologist who practices in Bergen County, NJ. She is a wife to her best friend, Akeem, and a mother of two little ones on Earth and two others in heaven above.