When I taught preschool, we put this phrase to the tune of "Old MacDonald's Farm." When I run into the parents of my former students, I often hear about how they are still singing, "Pray, Hope, Don't Worry."
What a great way to live!
This famous phrase of Padre Pio can ground us in such uncertain times.
There is so much happening around us which is beyond our control, we need to get real with ourselves about what we can control, and the answer to "What can I really control?" is very often, "Not much." We don't control the world around us, we don't control much of what happens to us. What we do control is how we respond.
In today's readings, Jesus sends out the Twelve to proclaim the Kingdom of God. He tells them to take nothing for the journey. Stay where you are welcomed and if you aren't welcomed, shake the dust from your feet. In other words, go out and pray, hope, and don't worry. You are doing my work and that is enough, I will take care of everything else.
How different my life might be if I could be like the Twelve and focus so firmly on proclaiming the Kingdom of God with my life that even if rebuffed, I could rest in God, shake the dust from my feet and move on? What would happen if I stopped worrying about all the things I can't change and focused on what I could? What would happen if I let God be God and I just worried about being Sheryl? He created me, and just like the Twelve, he knows how I fit into His plan for His kingdom.
What can I do today to help in building the Kingdom of God?
Padre Pio had the answer and for that. He is a great modern Saint. Pray, hope, Don't worry. God's got this.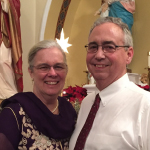 Sheryl O'Connor delights in being the number 1 cheerleader and supporter for her husband, Tom who is a candidate for the Permanent Diaconate in the Diocese of Kalamazoo. They are so grateful for the opportunity to grow together in this process whether it is studying for classes, deepening their prayer life or discovering new ways to serve together. Sheryl's day job is serving her community as the principal for St. Therese Catholic School in Wayland, Michigan. Since every time she thinks she gets life all figured out, she realizes just how far she has to go, St. Rita of Cascia is her go-to Saint for intercession and help. Home includes Brea, a Bernese Mountain dog and Carlyn, a very, very goofy Golden Retriever.