My family just moved to a small town outside the city. My boys now enjoy abundant playtime outside in our expansive backyard, and we sleep better at night without all the cars and motorcycles passing by. We love the house and are settling in. We put up curtains last night, filled the bookshelves the night before, and put down area rugs the night before that. It is starting to look like a cozy home.
Our new location also triples my commute into work. I have a whole hour to take in the huge trees that line the highway and enjoy the silence as I collect my thoughts. At home there is the noise of my rambunctious children and at work there is mental noise with all the "to-do's". I don't even turn the radio on. I just let my thoughts wander or sometimes I don't think of anything at all.
However, my desire is to utilize the drive as quality prayer time. I want to praise God for the beauty of His creation, ask Him to lead my children to sanctity, beg his mercy for family members who are struggling and ask Him for the grace to be a good example of discipleship throughout my day.
Today is the feast of St. Matthew, Apostle and Evangelist. Reading the Gospels of the calling of the first disciples quite frankly floors me. Listen to this: "As Jesus passed by, he saw a man named Matthew sitting at the customs post. He said to him, 'Follow me.' And he got up and followed him." Just like that! He got up and followed him. No questions asked. No ifs, ands or buts. No looking back.
I would have to take a long, hard look at my soul to discern whether I was capable of such detachment. While I like to think I live simply, if my rage at being without internet for a week is any indication, I have a very long way to go.
I yearn to live out the words of St. Paul and "live in a manner worthy of the call [I] have received, with all humility and gentleness, with patience, bearing with one another through love…", yet those seem to be the virtues I lack most. Sigh…
As we continue to adjust to our new normal in our new town, I hope to work on these virtues through participation in ministry. I love how St. Paul goes on to mention that we all have different gifts: apostle, prophet, evangelist, pastor, teacher, equip-er of others for ministry, builder-upper of the Body of Christ. I look forward to discovering my unique gifts in order to help draw others closer to God.
May we all begin to recognize Christ's gift of grace given to each of us and become just as willing as Matthew to follow Him.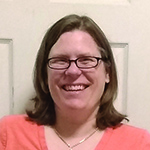 Tami Urcia grew up in Western Michigan, a middle child in a large Catholic family. She spent early young adulthood as a missionary in Mexico, studying theology and philosophy, then worked and traveled extensively before finishing her Bachelor's Degree in Western Kentucky. She loves tackling home improvement projects, finding fun ways to keep her four boys occupied, quiet conversation with the hubby and finding unique ways to love. She works at Diocesan, is a guest blogger on CatholicMom.com and BlessedIsShe.net, runs her own blog at https://togetherandalways.wordpress.com and has been doing Spanish translations on the side for almost 20 years.