The Catholic Church has always fostered a devotion to the Mater Dolorosa, or Sorrowful Mother. It is actually one of my favorite days of the year. The Tradition of honoring Our Lady of Sorrows is rooted in Scripture. In Genesis 3:15, God foretold Mary's role in salvation history as He addressed Satan, "I will put enmity between you and the woman, and between your offspring and hers; He will strike at your head, while you strike at his heel" (Genesis 3:15). After the fall of Adam and Eve, God promised to send a savior to redeem mankind from their sins. With this, He immediately included the Blessed Mother in this promise by saying that she would oppose the devil along with her Son. This is the first instance of Mary's intimate participation in her Son's Passion. Isaiah 53:5 prophesized Christ's future suffering as a physical one, but we know that Mary's participation is spiritual and emotional. However, any parent knows that the sword of anguish can be just as piercing as a physical sword. In the book of 1 Maccabees, a woman witnesses her seven sons being martyred. This imagery gives us a glimpse of the pain Mary will feel as her Son is killed. God uses this immense love between a mother and a son to measure the grief that one will have upon beholding Him who has been sacrificed, as we see in today's Gospel.
Mary's sorrowful journey began with the ridicule she felt as an unmarried pregnant woman, continued through the poverty of Jesus' birth, reappeared when Herod sought his life, extended when Mary thought she lost her son for a day in Jerusalem when He was 12 years old, and culminated as she stood underneath the cross as He gasped for air and breathed His last.
In many depictions of Our Lady of Sorrows, we see arrows piercing the Blessed Mother's Heart. This imagery comes from Simeon's warning during the Presentation in Luke 2:35, "And you yourself a sword will pierce so that the thoughts of many hearts may be revealed."
In this passage, we find that the tradition of Our Lady of Sorrows intersects with another Marian belief: that of her participation in her Son's Passion and cooperation in the redemption of humankind. Simeon tells Mary that she will experience a sword piercing her heart along with her son. The wording of this passage emphatically states that she will be intimately involved with her Son's passion. He wasn't saying it as a metaphor; he meant it quite literally. The pain Mary felt, beginning with her pregnancy and culminating as she watched Christ be crucified, was a very real, poignant sword, forged with the hatred and rejection of men towards Jesus. She pondered these words of Simeon for the 33 years leading up to her Son's death. From her very conception she was chosen for this special role, and God set her aside for His Son. She would, in turn, suffer a spiritual martyrdom as her Son suffered a physical one.
​Mary's participation in the Passion of her Son has its source in her divine motherhood. In a 1997 general audience, Pope John Paul II references Lumen Gentium when he says, "By giving birth to the One who was destined to achieve man's redemption, by nourishing him, presenting him in the temple and suffering with him as he died on the Cross, 'in a wholly singular way she cooperated…in the work of the Saviour.'" Although we are all called to participate in the work of salvation through our suffering, Mary's role in her Son's Passion is unique and unrepeatable because of the maternal bond between her and her Son. The climax of Mary's role as in her Son's Passion takes place at the foot of the Cross, where the total suffering of her motherly heart was united to the suffering of her Son's heart in fulfillment of the Father's plan of redemption. As she looked upon her dying Son, the anguish she felt because of the sins of mankind was so strong that it literally pierced her heart as His was pierced with the lance. "These wounds which were scattered all over the body of Jesus, were all united in one heart of Mary" (St. Bonaventure). That is the proof of the strength of maternal love. Thus Simeon's prophecy was fulfilled as Mary stood beside her dying Son at the foot of the cross, the true Mater Dolorosa.
"Mary meets her Son along the way of the Cross. His Cross becomes her Cross, his humiliation is her humiliation, the public scorn is on her shoulders. So it must seem to the people around her, and this is how her own heart reacts. The words spoken when Jesus was forty days old are now fulfilled. They are now completely fulfilled. And so, pierced by that invisible sword, Mary sets out towards her Son's Calvary, her own Calvary. Although this pain is hers, striking deep in her maternal heart, the full truth of this suffering can be expressed only in terms of a shared suffering – 'com-passion'. That word is part of the mystery; it expresses in some way her unity with the suffering of her Son" (St. Pope John Paul II).
Without Mary's "fiat" to God, our redemption would not have occurred the way it did. Therefore, we can call her "Co-Redemptrix," because her act of silent martyrdom and submission to the Will of God contributed to humanity's ransom. Her sacrifice occurred through her compassion, (com-passio, to suffer with), which was the sword destined to pierce her heart. As Christ suffered in the flesh, Mary suffered in her heart. "The heart of Mary became as it were a mirror of the agonies of her Son, in which were seen the spitting, the scourging, the wounds, and all that Jesus suffered" (St. Lawrence Justinian).
Devotion to Mary as Mother of Sorrows is so incredibly important to the life of the Church, and why the Memorial of Our Lady of Sorrows is celebrated in our liturgical calendar on the day after the Feast of the Exaltation of the Cross. Oftentimes, Mary is overlooked or reduced to simply "blessed." She was indeed Blessed, but, as we know in the Christian life, along with blessedness comes much pain. Mary revealed to St. Bridget, who coined the devotion to the Mater Dolorosa, that this grief which St. Simeon announced to her, never left her heart till she was assumed into heaven. She witnessed every word spoken against Christ, every time people chose and still choose today not to hear the word of Him who came to save them. As He was suffering, every blow and nail were driven into her heart; yet still she echoed her original "fiat," in order that the salvation of man might be complete. ​
Our Mater Dolorosa had experienced the greatest of all sorrows, her heart had been pierced, and she felt utter abandonment and desolation. But like our Lady had always done, she kept the faith and accepted the will of God so completely and so perfectly. Our Mother chose trust. When nothing made sense, in the height of her agony, she kept her "yes." She knew that God was good and worthy of thanks. If she could believe that during her bleakest hour, there is grace for us to believe it in ours. Pain has a way of making us feel isolated. But we are not alone. You are not alone. She suffers with us today. Who else would be a better companion, a better comforter, a better Mother than our own mother?
"Behold, your mother." (John 19:27)
For some reason, I find the image of Our Lady crying extremely comforting to me. In times of my own sorrow, I cling to our Mother and allow her to cry with me. And I pray she lets me, unworthy though I be, bear her grief as well.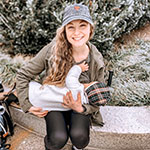 Sarah Rose hails from Long Island and graduated from Franciscan University in 2016 with a Bachelor's in Theology & Catechetics. She is happily married to her college sweetheart John Paul. They welcomed their first child, Judah Zion, in 2019. She is passionate about her big V-vocation: motherhood, and her little v-vocation: bringing people to encounter Christ through the true, the good, and the beautiful. She loves fictional novels, true crime podcasts/documentaries, the saints (especially Blessed Chiara Luce Badano), & sharing conversation over a good cup of coffee. She is currently the Coordinator of Young Adult Ministry at St. Cecilia Church in Oakley, Cincinnati. You can find out more about her ministry here: https://eastsidefaith.org/young-adult OR at https://www.facebook.com/stceciliayam.