It is so easy to lose our focus. Like the mother of James and John, it is so-so easy to become infatuated with the world's definition of success and to completely miss the point.
We are familiar with today's Gospel reading and we find the story, not only in Matthew's Gospel but also in Mark's Gospel. The placement of the story of James and John in Mark is interesting as well. In Mark, the story of the brothers' ambition to sit in positions of power, comes after the story of the workers in the vineyard, in which all workers are paid according to their value and dignity as persons rather than what they could do for the owner for the vineyard.
It is easy to get caught up in all that is happening around us. We are given all the tips and keys for "getting ahead" (which implies leaving others behind), for learning how to "win friends and influence people" (which implies that the reason for befriending someone is to be able to influence them), how to "think and grow rich" (which implies that getting rich is the goal to which we all should strive). All this ends up with us being unhappy with what we have and desiring to be in a position to get what we think we need. It is so easy to get wrapped up in the success the world is selling and to forget that Jesus turned all that on its head.
The world is a mess around you? You feel like everything is out of control and there is nothing you can do? You feel like others are leaving you behind on the ladder of success? Jesus has the answer.
But Jesus summoned them and said,
"You know that the rulers of the Gentiles lord it over them, and the great ones make their authority over them felt. But it shall not be so among you. Rather, whoever wishes to be great among you shall be your servant; whoever wishes to be first among you shall be your slave…"
The world is a mess? St. Paul told us, we will be constricted by not constrained. Jesus has the answer. Serve the person next to you. You feel like it's all out of control? St. Paul told us we will be perplexed but not driven to despair. The answer? Love the person next to you. You feel like you are being left behind on the ladder of success? St. Paul told us we would be persecuted but not abandoned, struck down but not destroyed. The answer? Serve the neighbor closest to you.
Find some small act of love, some small gift of charity, some tiny act of humility that you can practice today. When we seek to serve first, we realize that Jesus doesn't just have the answer, He is the answer.
"Just so, the Son of Man did not come to be served but to serve and to give his life as a ransom for many."
Holy Spirit, guide us today in seeking first how we can be a blessing and source of love for others, confident that when we put others first, we are only imitating what you did for us.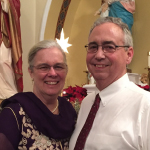 Sheryl delights in being the number 1 cheerleader and supporter for her husband, Tom who is a candidate for the Permanent Diaconate in the Diocese of Kalamazoo. They are so grateful for the opportunity to grow together in this process whether it is studying for classes, deepening their prayer life or discovering new ways to serve together. Sheryl's day job is serving her community as the principal for St. Therese Catholic School in Wayland, Michigan. Since every time she thinks she gets life all figured out, she realizes just how far she has to go, St. Rita of Cascia is her go-to Saint for intercession and help. Home includes Brea, a Bernese Mountain dog and Carlyn, a very, very goofy Golden Retriever.