Last Saturday, I was able to participate in a friend's ordination into the transitional diaconate via live feed. It brought me great joy to see his immediate family as well as a few priests who have been mentors taking part in the celebration of this sacred rite and liturgy. I was part of the community of saints who prayed with him on his journey and who chuckled and smiled when the vestments were tangled during his robing of deacon attire. The joy was palpable as the Bishop (while masked) laid hands, welcoming him into a new part of his journey, ordained life.
The first reading today speaks about the community in Ephesus helping a brother learn more about the Way and teachings of Jesus. That is exactly what happens for our seminarians. The beautiful thing is that it also happens for all who wish to learn more about faith, God, and receiving the sacraments. There is joy in listening to and learning about the gospel, the Way of Jesus Christ.
Pope Francis, in his encyclical The Joy of the Gospel said:
"I invite all Christians, everywhere, at this very moment, to a renewed personal encounter with Jesus Christ, or at least an openness to letting him encounter them; I ask all of you to do this unfailingly each day. No one should think that this invitation is not meant for him or her, since "no one is excluded from the joy brought by the Lord" (#3).
Our psalm today has us shouting to God in gladness as the great king over all the earth. Pope Francis goes on in #167 of the encyclical to say:
" Proclaiming Christ means showing that to believe in and to follow him is not only something right and true, but also something beautiful, capable of filling life with new splendour and profound joy, even in the midst of difficulties…" (#167)
Think of the joy you felt when you were able to successfully 'log in' to a live liturgy (or a recorded one) during this pandemic. There is joy and community in that shared experience. We were able to see the faces of our clergy and hear the gospel proclaimed by those we care about. Pope Francis wrote in his opening:
"The joy of the gospel fills the hearts and lives of all who encounter Jesus. Those who accept his offer of salvation are set free from sin, sorrow, inner emptiness and loneliness. With Christ joy is constantly born anew." (#1)
As I look forward to being at the table for a physical encounter with Jesus through the reception of the Eucharist, I have His words of the gospel, which fill my heart with joy and hope at all times. God is good, all the time. All the time, God is good.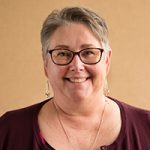 Beth is part of the customer care team at Diocesan. She brings a unique depth of experience to the group due to her time spent in education, parish ministries, sales and the service industry over the last 25 yrs. She is a practicing spiritual director as well as a Secular Franciscan (OFS). Beth is quick to offer a laugh, a prayer or smile to all she comes in contact with. Reach her here bprice@diocesan.com.