"Jesus said to him, "I am the way and the truth and the life. No one comes to the Father except through me." Jn 14:6
In today's gospel reading, Thomas voices something that has gone through my mind many times these last several weeks during the pandemic and stay at home orders here in the USA. So many aspects of my life changed in a very short span of time. The apostles' world was also greatly changed after the passion and rising of Jesus. Each of us has had to work through a different way of relating to and living our lives in a new reality.
I felt a sense of loss, grieving for people and things I took for granted while being quickly ushered into a new way of daily life. It has made me and every aspect of the human world learn a new way of being. The pandemic has forced the Church into the 21st century by making available more digital resources. Since we haven't been able to gather at our usual Masses, I am now able to participate in daily Mass via live stream and have many options to do so. I have learned more about spiritual communion. I make the time throughout my day to pray more often while I work or do things around my home.
In my solitude at home, I've been sorting through areas of my life that I thought I was done dealing with: past hurts, losses, and behaviors that I believed were resolved. This pandemic has triggered some of my grief again. Many of these things I had dealt with, some I set aside by avoidance: loss in mindless tasks, movies, or books to distract me from really facing those important issues and make some necessary changes in my life. I had to face some new realities that I didn't know how to cope with at the time the situations originally occurred. I felt shame and guilt because of this. I was afraid of sharing these feelings with family or friends. It's brought forth the longing for deeper relationships with family, friends, a future (unknown) spouse, and with my heavenly spouse, Jesus. I didn't know how to surrender these things to Jesus and His loving Father, even though I was attending Mass and praying.
I now realize that being vulnerable is part of a healthy life. I need to know my strengths and my weaknesses and of the world in which I live. Past experiences can be triggered by our current life experiences. It's how we deal with them in the present, by noting what is stirred up and continuing on a path forward, that keeps us moving on the way in a new day. In this new reality, I have heightened awareness of the many who don't have access to the digital world, who don't have a home to shelter in nor any jobs to pay their bills. I know there are very necessary changes to be made in all aspects of our societies.
An interview Pope Francis gave a month ago spoke about taking up the challenge during this time. He said:
"…This crisis is affecting us all, rich and poor alike, and putting a spotlight on hypocrisy. I am worried by the hypocrisy of certain political personalities who speak of facing up to the crisis, of the problem of hunger in the world, but who in the meantime manufacture weapons. This is a time to be converted from this kind of functional hypocrisy. It's a time for integrity. Either we are coherent with our beliefs or we lose everything….
What we are living now is a place of metanoia (conversion), and we have the chance to begin. So let's not let it slip from us, and let's move ahead….This is what we all have to do now, today: to take with us the roots of our traditions, and make for the mountain."
Let us begin today the journey up the mountain together. Let us act boldly and pray intentionally for the changes that need to occur throughout our world. We each have a part in the repair and healing of lives affected in this crisis. Let us walk on the way that Jesus has taught us. We know the way. Pope Francis said, "If following him seems difficult, don't be afraid, trust him, be confident that he is close to you, he is with you and he will give you the peace you are looking for and the strength to live as he would have you do."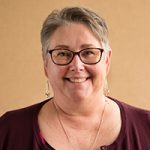 Beth is part of the customer care team at Diocesan. She brings a unique depth of experience to the group due to her time spent in education, parish ministries, sales and the service industry over the last 25 yrs. She is a practicing spiritual director as well as a Secular Franciscan (OFS). Beth is quick to offer a laugh, a prayer or smile to all she comes in contact with. Reach her here bprice@diocesan.com.