In John's Gospel, this is the final public teaching of Jesus; immediately, the narrative moves to the Last Supper and Passion. So it makes sense that this would be a summary of Jesus' message. And what is it?
The whole passage points to the FATHER. If we want to understand who Jesus is and "what makes him tick," we must understand him in relationship with the Father.
Who is Jesus? The one sent by the Father. Yet, though he has been sent by the Father, he is ONE WITH the Father ("whoever sees me sees the one who sent me"). The Father and the Son are one, yet distinct, and in his human nature, Jesus obeys the will of the Father perfectly.
Why did he come from Heaven into the world? To be our light, so that we might not remain in darkness. He did not come to condemn the world, but to save it. The word he speaks will condemn those who reject him. Why? Because Jesus' words all come from the Father, "who sent me and commanded me what to say." Jesus never speaks on his own, never does his own thing, never tells his own tale: "What I say, I say as the Father told me."
This is the lesson here: what moves and guides and energizes Jesus is his love for the Father. He is, in a sense, a reflection of the Father. Yet, as Son, he orders his whole life in loving obedience to the Father. This LOVE OF JESUS FOR HIS FATHER is the key to understanding Jesus' mission and how we are to participate in it.
Jesus' love for his Father is a desire to glorify Him in all things, to offer his entire self for love of the Father, and to draw each one of us into this love. This love for the Father is most clearly understood when we look on the Son offering himself completely to the Father on the Cross; and this same offering is made anew at each Mass so that we can each participate in this loving sacrifice. Jesus' love for the Father is so strong, so deep, so overflowing, that he wanted to fill the whole earth and all of time and eternity with love. And the way he does that is by pouring himself out through time and space through each one of us, through his entire Mystical Body.
Like Jesus, we must love the Father with our whole heart and soul and being; his will must be our bread. We must love the Father on behalf of those who do not know or love him and invite them into his love. We must love the Father in union with Jesus so that he is glorified through us. We must love the Father to the point of sacrifice, and eventually to a complete outpouring of ourselves in love, so that we say with Jesus, "Father, into your hands I commend my spirit."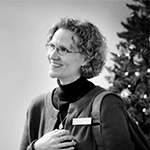 Kathryn Mulderink, MA, is married to Robert, Station Manager for Holy Family Radio. Together they have seven children (including newly ordained Father Rob and seminarian Luke ;-), and two grandchildren. She is a Secular Discalced Carmelite and has published five books and many articles. Over the last 25 years, she has worked as a teacher, headmistress, catechist, Pastoral Associate, and DRE. Currently, she serves the Church as a writer and voice talent for Catholic Radio, by publishing and speaking, and by collaborating with the diocesan Office of Catechesis, various parishes, and other ministries to lead others to encounter Christ and engage their faith. Her website is https://www.kathryntherese.com/.